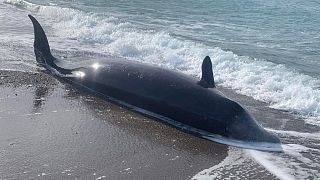 -
Copyright

Cyprus department of fisheries and marine research/PIO/Handout via REUTERS
A number of whales washed up dead on the northern shores of Cyprus last week.
It is thought the deaths could be linked to the massive earthquakes in neighbouring Turkey and Syria.
A pod of four beaked whales were found beached in Argaka, Paphos, on Thursday. Locals managed to guide three, which were still alive, back to sea. The fourth died, according to the Cyprus department of fisheries and marine research.
A further six whales were found dead on Friday between Polis and Pachyammos. It is unknown whether some of these were the ones that had been returned to the sea the previous day.
How could earthquakes in Syria and Turkey be linked to the whale deaths in Cyprus?
Whales use underwater sound as their primary way to communicate and assess their environment. Ocean noise can affect deep-diving whales' ability to navigate, find food and avoid predators. 
It is thought that seismic vibrations from the recent earthquakes in Turkey and Syria may have disoriented the whales.
"These animals have an echolocation system which is affected by sea noise," Yiannis loannou of the fisheries and marine research department told Sigma TV in Cyprus. "It could be military exercises, seismic drills or naturally the earthquake in the region."
Last Monday's mega earthquakes in Turkey and Syria, which have killed tens of thousands of people, were also felt on the east Mediterranean island.
Autopsy samples were collected from the carcasses on Friday by the fisheries research team. These will be
What type of whales washed up in Cyprus?
Authorities identified the whales as ziphius cavirostris, more commonly known as Cuvier's beaked whales. This deep-diving species can reach lengths of about four to seven feet and weigh two to three metric tonnes. 
This is the largest number of whale deaths recorded in Cyprus, where sightings of beaked whales is relatively uncommon.
Previous strandings of Cuvier's whales in the Bahamas, Caribbean Sea, Canary Islands and Mediterranean Sea have been associated with active naval sonar, according to NOAA (the National Oceanic and Atmospheric Administration).