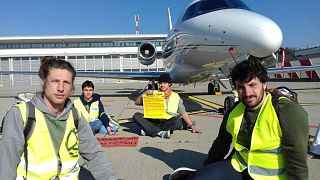 -
Copyright

Stay Grounded Network
Climate scientists blocked several private jet terminals around the world yesterday in protest of 'luxury emissions'.
London Luton Airport, Schiphol Airport in Amsterdam and Bromma Airport in Stockholm were among those disrupted by activists from Scientist Rebellion, Extinction Rebellion (XR) and Stay Grounded.
It follows recent protests against private jets in Brussels and Seville on Monday, and one in Los Angeles on 11 February, with 23 actions in total expected.
"It is time to ban private jets and tax frequent flyers to the ground", says NASA climate scientist Dr Peter Kalmus from Scientist Rebellion.
"We cannot allow the rich to sacrifice our present and future in the pursuit of their luxury lifestyles."
As well as blocking airport entrances, some protesters also stopped trains loaded with airplane fuel from reaching airport depots. 
And in Brussels, a number of climate activists and scientists crashed AIR OPS 2023, a business aviation conference, bringing a 'Make Them Pay' banner onto the stage.
Where are the private jet protests?
Yesterday morning, Scientist Rebellion announced on Twitter that it was blocking the Harrods Aviation private terminal at Luton Airport on the outskirts of London.
"Valentine's Day shouldn't cost the earth," added Extinction Rebellion UK.
Across Europe, private jet protests also took place at Milan Malpensa Prime Airport, Amsterdam's Schiphol Airport, Trondheim Airport in Værnes (Norway), Cascais (Portugal), and Palma de Mallorca and Ibiza Airports in Spain.
Sweden saw a few actions at Stockholm's Bromma Airport, and in Malmo, Lund and Gothenburg.
While activists in Christchurch, New Zealand and Melbourne, Australia also took part in the global day of action.
Why are private jets so bad?
It's well known that private jets are bad news for the environment - though that doesn't stop some celebrities from flaunting their carbon-guzzling rides on social media.
One Reddit user tracked more than 200 private jets that took off from Arizona airports immediately after the Super Bowl on Sunday.
Simply put, their exclusivity makes them a hugely inefficient way to blow the world's remaining carbon budget.
Private jets are on average 10 times more 'carbon intensive' per passenger than commercial planes and 50 times more polluting than trains, research by the European Federation for Transport & Environment (T&E) shows.
"Burning tons of fuel for luxury flights is incredibly unfair during a cost-of-living crisis, and criminal within the context of an intensifying climate crisis", says Inês Teles from Stay Grounded.
The network is made up of more than 200 member initiatives, all campaigning for a reduction in aviation and what it calls the industry's "problematic strategies" like offsetting and biofuels.
"We should start by cutting out the most carbon-intensive and useless flights - and private jets are the most striking example of those."
What does the Make Them Pay campaign propose?
Banning private jets is one of the demands of the 'Make Them Pay' campaign group, made up of citizens and scientists from Extinction Rebellion, Scientist Rebellion and Stay Grounded.
But aviation at large is a huge part of the climate problem, contributing around 3 per cent of all human-induced carbon emissions.
Taxing frequent fliers is the next step to creating more equitable airspace and a habitable planet, the campaigners say.
Sara Campbell from Extinction Rebellion Aotearoa/New Zealand argues that aviation fuel and frequent flyers should be taxed.
"The proceeds from this tax should be used to finance affordable public transport for all and climate reparations to those most affected by the climate crisis, who are also the least responsible."
This isn't a new call to action. At the COP27 climate summit last year, the Least Developed Countries (LDC) group (representing the world's most climate-vulnerable countries) also proposed a global aviation tax in order to help pay for climate 'loss and damage' funds.
Studies show that we could raise in excess of $100 billion (€92.8 billion) a year this way.
"I'm an aviation worker," says Finlay Asher, an aerospace engineer taking part in yesterday's actions.
"But feel that I can't stand-by watching the emissions from my industry continue to grow and contribute so heavily to the climate carnage wreaking havoc around the world.
"These impacts are mostly felt by the poorest communities, so it's sickening to also realise that an elite minority of super-rich mega polluters are responsible for the majority of global emissions from air travel. "