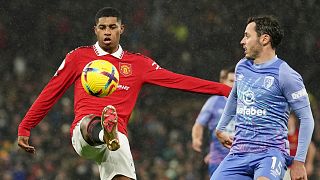 -
Copyright

AP Photo/Dave Thompson
Football fans are being encouraged to 'score green goals' for their teams and win prizes by taking up climate-friendly behaviours.
More than 80 clubs - including Arsenal, Chelsea, Liverpool and Manchester United - are backing Green Football Weekend, which runs from 3-5 February.
Every action supporters take will earn points for their club, helping one win the 'Green Football Cup'.
Some players are wearing green armbands this weekend to publicise the campaign, which aims to promote sustainable behavioural shifts among sports fans.
How does Green Football Weekend work?
Supporters make green pledges - from going meat-free to swapping car journeys for walking and cycling - on the campaign's website, earning their team three virtual 'green goals'.
Further points are added to their score once the pledges have been fulfilled. While a leaderboard displayed on the website incentivises everyone to up their game
At the time of writing, Manchester United, Leicester City, Leeds United, Chelsea and Port Vale are topping the green ranking.
Players are also entered into a prize draw to win TVs, National Trust holidays, signed England shirts, Premier League tickets, EFL Championship Final tickets and Football Manager Game passes.
How green are Premier League clubs?
Football clubs have come under scrutiny in recent years for environmentally unfriendly practices like flying to games in private jets.
In 2021, the Premier League signed up to the UN Sports for Climate Action Framework, aligning itself with Paris Agreement goals, such as reaching net-zero emissions by 2040.
As well as reducing its climate impact, the league pledged to advocate for climate action and promote sustainable and responsible consumption.
UN-backed organisation Sport Positive tracks Premier League teams' commitment to these goals, analysing their use of renewable energy, energy efficiency, waste management, transport and catering, among other things.
The results are translated into rankings. Currently, Tottenham Hotspur tops the EPL sustainability leaderboard, while Aston Villa comes last.
Can gamifying climate action create real change?
Adopting gaming elements to influence real-world behaviour could be a powerful tool in the fight against climate change.
It can be used to engage people in a topic that can often feel overwhelming or abstract. Football has a global audience of five billion, according to FIFA.
Studies have shown that introducing competition makes people more likely to change their habits. While rewards drive engagement, motivating people to be more conscious and take action.
By gamifying climate change action, sport may be able to leverage its vast reach to normalise and incentivise helping the planet.