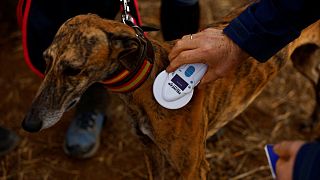 -
Copyright

REUTERS/Susana Vera
A bill designed to strengthen animal rights in Spain could outlaw hunting with dogs.
The proposal would reform the treatment of domestic and wild animals in captivity. It includes plans to ban the sale of pets in stores, turn zoos into wildlife recovery centres, and impose prison sentences for animal abusers.
However, Spain's ruling Socialist party, which introduced the bill in 2022, was forced to backtrack last month following protests in rural areas. With elections looming later this year, the party is cautious of upsetting this key voter base.
Why are people protesting against an animal rights bill in Spain?
The bill proposes that owners must train pets, including dogs, to prevent them from harming other animals. It also obliges owners to acquire permits to breed animals - clauses that hunters and dog breeders say would be almost impossible for them to comply with.
The Royal Spanish Hunting Federation, which represents 337,000 hunters, has pointed out that sections of the bill, aimed at reducing the number of stray animals, would mean the demise of hunting.
In Spain, dogs are used to track or capture animals such as deer, wild boar and rabbits. The hunting sector generates more than €5 billion a year in economic activity, according to data from Deloitte.
Supporters of the bill claim that most dog abandonment occurs in the countryside.
Some 167,000 dogs were abandoned in Spain in 2021, many after the end of the hunting season, according to the Affinity Foundation, a Barcelona-based NGO.
Spain's main veterinary association says the bill also demands too much from pet owners by preventing, for example, euthanising an animal if there is the possibility of palliative treatment.
"As it is written, it is easier to euthanise a person than an animal," says Maria Luisa Fernandez, president of the association.
Why is Spain's Socialist party torn over the animal rights bill?
Fearful that the issue could push rural voters towards right-wing parties, the Socialists tabled a last minute amendment to the bill in December. The amendment excludes hunting dogs and other animals involved in traditional rural activities.
This was in defiance of their coalition partner, the left-wing Podemos party.
"We care a lot about the rural environment, we know the reality of hunting," said Socialist lawmaker Begoña Nasarre, who is also mayor of a town in northeastern Spain, at a committee session in Parliament. "We want to legislate for everyone."
Spain's Socialists have traditionally enjoyed strong support in rural areas. Along with their historic rival, the Popular Party, they have cornered the majority of votes in towns of less than 2,000 inhabitants, according to official electoral data.
But the Socialists must also compete with Podemos for urban left-wing voters concerned about animal welfare.
Is the animal rights bill likely to exclude hunting dogs?
President Pedro Sánchez's party depends on the votes of its coalition partner Podemos - as well as the Catalan and Basque nationalist parties - to push the legislation through Parliament.
Sergio Garcia Torres, a senior Podemos official who was involved in drafting the bill, says the Socialists should retract the amendment. He argues that it might not pass in a February parliamentary session because the exclusion of working animals means it no longer addresses the root causes of animal abandonment.
"The Socialist Party has time to react and return to the consensus we had," says Garcia Torres. "There is no parliamentary support now to bring out a law excluding hunting dogs."
José María Mancheño, president of the federation of hunting associations in Andalusia, says the misunderstanding of the role hunting plays in the countryside shows the evolution of some Socialists toward a more urban culture.
"The socialists in my town see it as normal for me to go hunting on Sunday, maybe a socialist in Madrid doesn't see it as normal," he says.