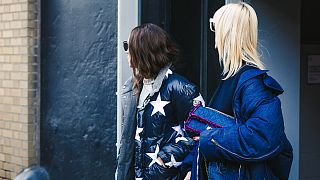 As the great and the good of international fashion descend on 180 The Strand on 14th September like an improbably heeled, impeccably coiffed and pleasingly idiosyncratic army, so this portion of central London becomes a hive of shade-donning editors and all-back-everything PR gurus. For five days, some of the very best emerging and established designers will showcase their work on the runways of the BFC show space, beneath the gilded ceilings of Freemason's Hall and within the constellation of surrounding venues that map out the London Fashion Week itinerary like glittering coordinates. But you don't have to be an industry insider to enjoy a slice of the action. Whether you're an observer on the periphery or have snapped up tickets to one of the public-facing events at London Fashion Week Festival (20-23 September), here are five hotspots from which to soak up the atmosphere.
ME London Hotel and Radio 1 Rooftop Bar
With its high spec interiors and hotshot location pincered between Aldwych and The Strand, a mere totter from the BFC show space, ME London is unsurprisingly a favourite among the Fash Pack. In previous seasons its ground floor lobby has played host to the Fashion Week media lounge, and you can see why. A spectacular Bond villain-esque affair of white divan sofas, pony and sheepskin rugs and a marble bar from which cocktails flow generously, it's a suitably glamorous spot to down tools, pop the iPhone on charge and enjoy some respite. Up above, the friendly staff at **Radio 1 Rooftop Ba**r usher in stylish visitors and show-goers for autumnal evenings spent sipping sundowners in cushioned booths backed by panoramic views of the capital's skyline. Escape the hoards of photographers and obligatory protestors on the strip below and head up to savour a signature Radio Garden, a cooling tipple of Hendrick's gin, basil leaves, cucumber and elderflower.
ROKA
Whether you're a press pass holder keen to line your stomach before all those comp drinks or a London Fashion Festival goer grabbing brunch between events, the Aldwych temple of contemporary robatayaki cuisine and sushi ROKA is on hand with piles of glistening spiced sashimi, crisp vegetable tempura and yuzu miso-marinated black cod. A two-minute walk from the BFC show space and a seven-minute walk from Freemason's Hall, it's the optimum venue for on-the-hop LFW eats, and there's always a steady stream of black cabs rumbling past outside if you're feeling too high maintenance (or indeed too full) to walk to your next venue. Come evening, its sleek bar area draws in peacocking street stylers and press groups from across the road - pull up a pew and people-watch over a sake cocktail before heading out into the night.
Somerset House Courtyard and Fernandez & Wells Café
Once home to the BFC show space, the flagstones of **Somerset House**'s grand courtyard are where the majority of the Fashion Week action used to play out, with A-listers and models posing beneath the grand columns and arched apertures of its neoclassical architecture. Now, with the BFC hub housed a few doors up, Somerset House hosts only a handful of shows and presentations each season, but the grandeur and relative calm within its walls still pull in editors escaping the chaos of the designer showrooms for a quiet coffee and influencers hungry for the perfect Instagram backdrop. With a menu of simple, rustic food and indoor and outdoor seating spilling over the cobbles, Fernandez & Wells is a beautiful spot to adopt your best flâneur or flâneuse expression and watch the scene play out, preferably over a plate of Imam Byaldi – roasted aubergine and tomato served warm with feta and wild oregano. Early birds grabbing breakfast before morning shows should order the eggs with yoghurt and harissa. Heaven.
Annabel's
A great, golden stalwart of London's upscale club scene, **Annabel**'s knows how to do Fashion Week with aplomb and throws some of the most prestigious afterparties. It also curates a seriously thoughtful and eclectic line-up of events each season, which this month includes breakfast with Victoria Beckham, DJ Fat Tony and Jodie Harsh's Fashion Week party and The Future of Fashion Show, which features a panel of important industry voices including Caroline Rush, Chief Executive of the British Fashion Council. What makes this month's line up even more special is that it will play out in Annabel's new home, a Grade I listed Georgian mansion overlooking Berkeley Square, which opened in March this year. Expect a wild animal print-clad jungle themed bar, a quintessential English garden and an ethereal rose-tinted dining room.
Wolf & Badger
Not so much a hangout as a one-stop-shop for everything you could possibly need for Fashion Week, **Wolf & Badger**'s store on Ledbury Road is home to some of the world's best independent brands. From timeless staples like crisp suiting and elegant longline coats to playful trend-ticking pieces like Western-inspired denim, animal motif scarf prints and faux fur capes, there's an abundance of carefully curated treasures here – and the staff know their stuff, too. For show-goers wanting to represent the best of British there's plenty of home-grown labels to choose from, whether its Orwell + Austen's snuggly cashmere jumpers, luxe outerwear at brand-of-the-moment Whyte Studio, or trinket jewels from Serge DeNimes.
Writer: Mary-Jane Wiltsher