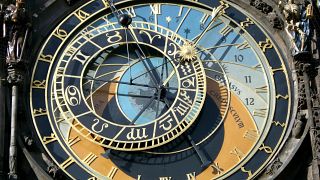 Copyright

Wikipedia/Hzenilc
The medieval astronomical clock, the Prague Orloj, has stopped for six months in order to go back to its 19th-century mechanical design.
The device first alerted residents to the passing of the hours in the 15th century and was in service for the last time at 9 am on Monday, Jan. 8.
Now it will be dismantled to remove changes to its mechanism added after the Second World War.
"As soon as the scaffolding starts to be built, we also dismantle these parts of the clock, then we can begin to dismantle the historic Gothic machine itself and we will take it all to the restoration workrooms", horologist Petr Skala said.
All of the modern mechanisms added after World War II will be removed and it will be restored to work on weights and pulleys, according to its design from1860.
The clock, which sits on the Old Town Hall in the Old Town Square in Prague, should be working in time for the 100th anniversary of the founding of Czechoslovakia.
The chapel of the Old Town Hall will also be repaired in the following months.