Living it meets blogger Wesley Much, the authority on Madrid's food scene.
British blogger Wesley Much moved to Madrid a few years ago and has been compiling everything possible about the Spanish capital's food scene ever since. His collaborative blog, Muchbites, is fed by a group of culinary storytellers and brings in depth restaurant reporting to taste buds of all varieties. Living it uncovers Wesley Much's food routine and his favourite Madrid hot spots.
What do you eat on a daily basis?
"My motto is eat what you want when you want, but all in moderation. Breakfast is usually healthy with granola, chia seed and açaï bowls. There is always a coffee in there. Either a V60 or a flat white. It's downhill for the rest of the day with a few donuts and biscuits after lunch. But I always try to have good grains and meat".
What is your favourite meal and where do you like to eat it?
"My favourite meal depends on my mood. I like to eat exciting and new foods. As long as there is flavour, sometimes heat and passion going into the meal, then I am happy. Some of my favourite dishes would be Laksa curries, anything with pest and sun dried tomatoes or a juicy cut of beef!"
Other favourites mentioned in the blog include traditionalLos Montes de Galicia, trendy 90 Grados and gluten-free bakery Celioso.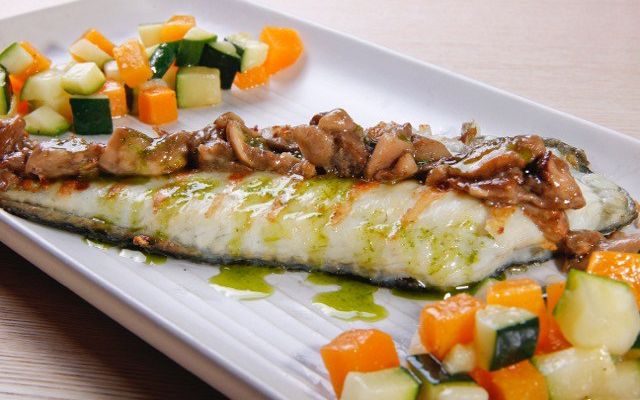 Details on a plate at Orgaz restaurant.
What is your latest food discovery everyone should try and how did you discover it?
"I absolutely love coffee and my latest discovery is coffee with Japanese tonic water over ice. I found this to be the perfect refreshing drink while enduring the scorching Madrid summer heat. I discovered it when I walked in to one of my favourite café, HanSo, and I asked them to give me their most refreshing iced coffee, et voila".
Une publication partagée par Much Bites (@muchbites) le 4 Juin 2017 à 11h12 PDT
Who would you invite to your ideal dinner party?
"To my ideal dinner party, I would invite the chef Garry Rhodes. I have been a big fan of his since my mum bought me one of his cooking books. Making the recipes in there and watching his TV show inspired me to want to be a chef. I didn't become one but his influence led me down the path of food blogging. At the dinner party, me and the MuchBites crew would quiz him on everything from cooking techniques to how to identify the best food!"
Living it welcomes knowledgeable food bloggers and luxury cuisine insiders wishing to share their stories, best tips and secret addresses around the world. Simply connect with us on Facebook , Twitter or Instagram.