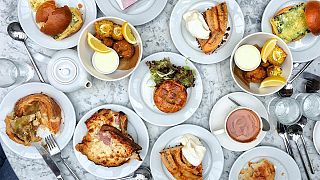 Kar-Sing Tong (@ks_ate_here) is a food expert based in London with eclectic tastes and reliable knowledge on where to find both good-looking and delicious meals in the British capital. He won't advise you to eat at expensive tables. On the contrary, his Instagram is a collection of low-key delicacies and street food to trust. Follow the guide.
What is your favorite meal and where do you eat it?
"Brunch is my favourite meal; it's guilt free eating because you're covering two meals in one! For me this is a meal that is very relaxed so I like to go to nice, bright places which are a little bit more laid back; B&H Buildings, Duck and Waffle or local favourites like St David Coffeehouse and 161 Food+Drink are all perfect for me".
What is the most photogenic ingredient?
"Any ingredient that retains their colour after being cooked always makes a photo standout. There is a tendency that cooked items all become brown but items such as eggs, avocados or tomatoes buck the trend and provide a focal point in an otherwise monotone picture".
Where is the best place to have breakfast?
"Hawksmoor Guildhall – the 'For 2 to share' breakfast is INCREDIBLE"
Hungry in the middle of the night. What do you eat or dream to eat?
"A pepperoni sourdough pizza cooked in a wood fire oven or a grilled cheese sandwich made with really mature cheese and thick, white, soft bread with chilli flakes. Total guilty pleasures".
What is your latest food discovery everyone should try?
"High quality olive oil on ice cream – honestly I thought it was crazy but I am now converted".
Kar-Sing Tong recommends:
B&H Buildings, 42 Northampton Rd, Clerkenwell, London EC1R 0HU
Duck and Waffle, 110 Bishopsgate (Heron Tower), 110 Bishopsgate, London EC2N 4AY
St David Coffeehouse, 5 David's Rd, Forest Hill, London SE23 3EP
161 Food+Drink, 161 Kirkdale, Forest Hill, London SE26 4QJ
Hawksmoor Guildhall, 10 Basinghall St, London EC2V 5BQ
Living It is always hunting for talented food insiders and bloggers to gain some inside knowledge and share their discoveries with the world. If you are one of them, follow us on Instagram, Facebook and Twitter and post using our hashtag #livingitluxe to be picked out for the next one.