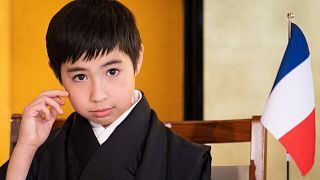 Maholo Terajima is the first officially recognised dual-national kabuki actor, following in the footsteps of his grandfather, a star of the traditional Japanese art form.
Kabuki is a type of Japanese theatre that dates back to the 17th century. Performing under the stage name Onoe Maholo, the 10-year-old French-Japanese boy has been a kabuki performer since he was four. 
His performance at Tokyo's Kabuki-za theatre in May will be his formal debut under his stage name.
"I've always loved kabuki, since I was little," he said, speaking in both French and Japanese at a press conference, adding that he hopes to one day perform in France.
"I'll practice hard so that our audience will enjoy the show," Terajima says, who wore a black kimono and grey hakama trousers for his presentation event at the French embassy.
Kabuki shows are all-male affairs combining dance, drama, and music, with men playing male and female roles.
The actors, usually the descendants of kabuki performers who begin training in childhood, don ornate costumes, wigs, and heavy makeup for performances on elaborate sets.
Terajima's mother is actress Shinobu Terajima, the daughter of kabuki star Onoe Kikugoro VII, who was awarded "national treasure" status from the government for his work.
His father is a French art director.
It is the first time a dual national has officially become a kabuki actor, although Ichimura Uzaemon who was adopted into a kabuki family in 1878 is said to have had a French-American father.
Terajima's mother is not eligible because of her gender.
On Tuesday, she said that although she and her husband are not kabuki actors, her son "has support from my father and brother".
Terajima once wanted to be a football player, but that is "no longer" his dream.
"I want to be a comic actor, like my grandpa," he said.