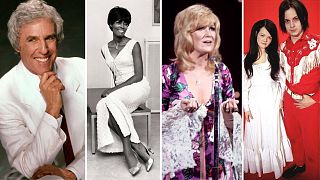 -
Copyright

Getty, Bell Sound, XL
Burt Bacharach, one of the all-time great composers and songwriters of 20th-century popular music, died peacefully this week at the age of 94.
His songs, originally performed by some of music's greatest – Dionne Warwick, Dusty Springfield and the Carpenters, to name but a few – have inspired countless artists and been covered by thousands, from the Beatles and Barbra Streisand to Isaac Hayes, Elvis Costello and The White Stripes.
Bacharach's stirring arrangements, unusual time signatures and memorable lyrics are behind some stone-cold classics, and across his 70-plus-year career, his melodic genius is undisputed.
Narrowing his impressive song catalogue is no small task, but Euronews Culture has understood that what the world needs now are Burt's greatest songs. 
Here are our favourite tunes. 
Aretha Franklin - 'I Say A Little Prayer'
This is one off my all time favourites records and one I sadly, until now, had no idea was written by Bacharach. Originally performed in 1967 by Dionne Warwick, the song contains a super infectious melody, jumping time signatures and heartfelt lyrics from the perspective of a woman concerned for her partner serving in the Vietnam War. But the track reached new levels when Aretha Franklin covered it the following year in 68'. It's simply one of the best recordings of all time. If you're ever wondering why she's considered the 'Queen of Soul', just take a listen. Theo Farrant
Dionne Warwick - 'Walk On By'
Was there ever a better creative pairing than Burt Bacharach and Dionne Warwick? The singer was the composer's muse for years, and they wrote 39 hits together, including 'I Say a Little Prayer', 'Do You Know the Way to San Jose?' and 'Don't Make Me Over'. 'Walk On By' (1964) is arguably their greatest – a heartbreak anthem that is nothing short of pop perfection, with a note-perfect arrangement, and Warwick's inimitable vocal delivery which, to paraphrase the lyrics, will get you breaking down and crying. It certainly helped me when I was getting over some heartbreak. Isaac Hayes later reinvented the song in 1969 with added layers of funk, and it was subsequently covered by The Stranglers in 1978 and Gabrielle in 1997. But nothing beats the original, which was recently included in Jordan Peele's Nope. David Mouriquand
Dionne Warwick - 'I'll Never Fall in Love Again'
As you've no doubt already gathered by now, the incredible thing about Burt Bacharach is that every music lover has favourites and for me, the hardest thing, has been choosing one. Or two even. I've picked Dionne Warwick's version of 'I'll Never Fall in Love Again' because it reminds me of my parents singing together in our Rover 3500 in the 1970s. I loved that car. And this was the soundtrack as we often waited for a recovery truck. Oh, happy days. Tokunbo Salako
Jackie DeShannon - 'What The World Needs Now Is Love'
Who says cheesy is a bad thing? Brie, stilton, and pecorino are all cheesy and they're great. For me, the enduring appeal of Burt Bacharach's songwriting is that, just like a tasty cheeseboard, he embraces sentiment directly, and then heaps buckets of charm on top. In 1965, when Bacharach offered 'What the World Needs Now Is Love' to longtime collaborator Dionne Warwick, she felt it was "too preachy", but the deliciously schmaltzy anti-Vietnam War sentiment of the Jackie DeShannon version proved too infectious. Warwick has recorded her own take not once, but twice since. Jonny Walfisz
Tom Jones - 'What's New Pussycat?'
There's nothing quite like 'What's New Pussycat?', performed by Tom Jones and written by Bacharach for the 1965 screwball comedy film of the same name. It's kitschy, over the top and utterly ridiculous, but it's certainly a fun time. Whatever Bacharach cooked up here worked - the track was nominated for the Academy Award for Best Original Song in 1966 and also peaked at number 3 in the US charts. Theo Farrant
Dusty Springfield - 'The Look of Love'
I like this sultry one purely because it was penned by Bacharach for the madcap 1967 James Bond parody Casino Royale, featuring David Niven, Ursula Andress and Woody Allen. It's a sexy, jazzy track which features Dusty Springfield's gorgeous vocals and some lovely bossa nova rhythms. It ended up being nominated for an Oscar and Diana Krall covered it for her album of the same name in 2001. But it's Dusty's version you want to put on when attempting bedroom eyes. David Mouriquand
Dusty Springfield / The White Stripes - 'I Just Don't Know What to Do with Myself'
Did I mention it already how hard it is to choose one Bacharach track? Good, that's why I've gone for two from one. Dusty Springfield's melodic, almost hypnotic version is a belter that's sweeter than warm honey poured on toast and just as delicious. It's still a top tune for songs to sing in the shower, but the least said about that is probably better. The White Stripes' Jack White excels with his slightly haunted, rock guitar and synth version of the classic. Both are perfect choices to listen to by yourself or with your Valentine. Tokunbo Salako
The Carpenters - '(They Long to Be) Close to You'
A sign of a true genius songwriter is how many times their works can be reinterpreted, giving them a new sense of life. Bacharach wrote '(They Long to Be) Close to You' in the early 60s and it was first recorded by Richard Chamberlain and then Dusty Springfield. It's been covered endlessly since, but in 1970 The Carpenters released the definitive version. It's an achingly romantic song, and the Carpenter siblings' harmonies create a sense of community that typifies Bacharach's warmhearted sensibility. Utterly joyous. Jonny Walfisz