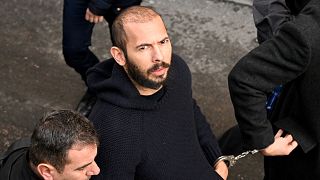 The arrest of controversial social media influencer Andrew Tate has shed a light on the extent of the camgirl industry in Romania.
Tate,36, his brother Tristan and two Romanian women were arrested at their Bucharest home for suspicions of their involvement in a sex trafficking ring. Tate is also accused of rape. A Romanian judge recently extended their stay in prison to June in order for the authorities to build a case against them.
Much of the allegations against Tate are pointed at his Romanian-based camgirl business. Tate has frequently spoken about his methods of coercing women into modelling nude online for payment by first entering into a relationship with them.
Tate claims he's created a multi-million euro business through his camgirl enterprise. Yet, questions remain over if anyone in the Romanian camgirl industry had heard of him before his capture hit the headlines.
"They never participated in industry events," says Maria Boroghina, a former successful model who became the head of Beststudios, one of the largest companies in Romania with 160 models.
"It was only after they were arrested that we learned that they had a studio," she tells AFP in the company's offices in downtown Bucharest.
According to Tate, his camgirl business had 75 women working for him, netting him around €600,000. Even if his dubious claims are believed, the scale of the Romanian camgirl industry is far greater than the influencer.
From a niche activity in the 2000s, the Romanian camgirl industry has moved into the ruins of the porn industry, killed by the free internet.
"It adds up to 40% of the market in the world", estimates Anastasia, a 33-year-old manager of another studio, Models4Models.
In a country known for the speed of the Internet connection, there are more than 500 studios and thousands of jobs, according to professionals in the sector. However, no official data is available.
At Beststudios, there are dozens of rooms with intimate décor and video equipment, with large beds covered with silk sheets and pillows.
The camgirls exchange privately with clients for eight hours a day, who pay between two and ten euros per minute.
The women's income can reach €8,000 net per month or more, while the average salary is only €800 in the Eastern European country.
Through the screen models share meals, go to sleep and serve as confidants. Recruits are trained to "earn money by keeping their clothes on as long as possible," continues Boroghina. "The sexually explicit content represents only 5% of the work".
While the Romanian camgirl industry has several thousand women employed through legal means, Tate's arrest has highlighted the potential for exploitation.
Beyond Romania, more and more victims of human trafficking "are being recruited around the world to work behind a screen," notes Fabrizio Sarrica, an expert with the United Nations Office on Drugs and Crime (UNODC).
"It is very lucrative" for criminals "who have access to a large number of clients" and can "rebroadcast the images ad infinitum".
For the Romanian studios who contributed to this report, the Tate case is an isolated incident. 
"Everyone is under contract, the girls have schedules to respect and are paid in royalties", explains Boroghina.
Little by little, mentalities are changing, says Ruxandra Tataru, organiser of the Bucharest Summit, an annual exhibition dedicated to camgirls that brings together more than 3,000 participants.
The popularity of the social network TikTok, where camgirls can grow their client base, "has notably contributed to improving the public image of an activity too often stigmatised", she observes.
If some fear the negative fallout of the recent scandal, Boroghina sees the opportunity to push politicians to better regulate the practices of an industry that is a profession in its own right but still lacking a tax status.
"There is no bad publicity. It's an opportunity to educate!" she smiles.