Floods in Romania cause landslides and damage roads
Comments
By Euronews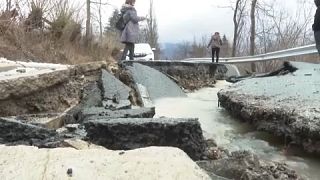 -
Copyright

Source: ROTVR
Extensive flooding in northern Romania on Saturday night left roads damaged and disrupted rail services.
The worst affected counties were Bistrita and Maramures.
A new section of road rebuilt with €2 million of European Union funding two years ago was badly damaged.
Rivers burst their banks, leaving homes and farmland flooded and triggering landslides.
In Bistrita, an avalanche blocked the Rodna-Valea Vinului road, leaving motorists with a 30km detour.
In Maramures, two fast train services were delayed for over an hour as fallen trees were cleared from the line.