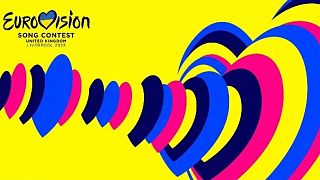 -
Copyright

Eurovision Song Contest
The official logo for the Eurovision Song Contest 2023 has been introduced by the BBC and Eurovision official account ahead of the Allocation Draw, as well as this year's slogan: "United by Music."
The venue of the upcoming Semi-Final Allocation Draw and Host City Insignia handover, St George's Hall, has had the new logo and slogan of the Eurovision Song Contest 2023 applied to the outside.
The artwork heavily uses both colours of the Ukrainian flag, in the background to pay tribute to last year's winning country. The typeface used in the logo is called 'Penny Lane' - a loving nod to The Beatles, the flagbearers of Liverpool's rich musical heritage.
Revealing the logo, Martin Green, managing director of the event for the BBC, said: "This year's identity sums up perfectly the amazing partnerships across the contest and, more importantly, the power of music to bring people together across the world."
The Semi-Final Allocation Draw and Host City Insignia will take place on 31 January at 7 pm (GMT) at St George's Hall. The hosts - British television presenter AJ Odudu and TV personality Rylan - will receive help from pupils of a local Liverpool school and Ukrainians in the city, who have come to the country due to the ongoing conflict.
As well as the draw, the Mayor of Turin will be present to hand over the host city key insignia to the Liverpool Mayor, Joanne Anderson.
The 2023 contest will be the first contest since 1979 in which the winning nation was unable to host the following contest. It is the sixth occasion overall on which a different country has hosted after the original host nation was unable to, following the Netherlands in 1960, France in 1963, Monaco in 1972, Luxembourg in 1974, Israel in 1980 and Ukraine in 2023.
The semi-finals of Eurovision 2023 will be held on 9 and 11 May – it will see 31 competitors whittled down to 20 acts, as voted by the public due to a change in the voting system. The grand final will be held on 13 May.