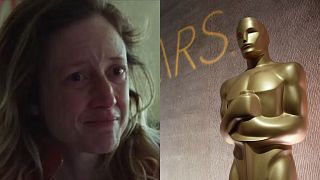 -
Copyright

Momentum Pictures - Academy of Motion Picture Arts and Sciences
One major surprise during this year's Oscar nominations was the inclusion of Andrea Riseborough, who was nominated for Best Actress for her role in To Leslie.
A pleasant surprise, mind you, as the wonderful performer known for her roles in Birdman, The Death of Stalin and Possessor, delivered an intense turn in the underseen film, in which she plays an alcoholic woman who wins the lottery but squanders the money.
The British actress made a very late break for it in the race with a grassroots campaign which paid off. Several Hollywood A-listers, including Gwyneth Paltrow, Kate Winslet, Susan Sarandon and Charlize Theron, got behind the film and championed her performance. She ending up joining Cate Blanchett (Tár), Ana de Armas (Blonde), Michelle Williams (The Fabelmans) and Michelle Yeoh (Everything Everywhere All At Once) in the running for Best Actress on 12 March.
While no formal complaint has been filed, the Academy has launched "a review of the campaign procedures around this year's nominees, to ensure that no guidelines were violated."
"It is the Academy's goal to ensure that the awards competition is conducted in a fair and ethical manner, and we are committed to ensuring an inclusive awards process," their statement reads.
"We are conducting a review of the campaign procedures around this year's nominees, to ensure that no guidelines were violated, and to inform us whether changes to the guidelines may be needed in a new era of social media and digital communication. We have confidence in the integrity of our nomination and voting procedures, and support genuine grassroots campaigns for outstanding performances."
Why the fuss?
What this review from the Academy means is that they are investigating whether the nomination, through a celebrity-backed and "direct" campaign, was legal.
Indeed, every year, studios spend millions on copious amounts of campaigning for nominations.
These broad "For Your Consideration" bombardments include sent screeners, interviews, lavish luncheons, place advertisement and direct marketing campaigns, in order to get as many votes as possible. These major campaigns have the capacity to sway nominations, and even made Harvey Weinstein's reputation as the man who could buy Oscar wins.
This boils down to: The more expensive the campaign, the more chances a film can win a nomination.
This whole system (or rigged game, depending how you look at it) means that smaller productions with little budget find themselves in an impasse and the Academy – who answers to studios – is embarrassed by anyone who contacts any voter directly about who to vote for through other (cost-effective) means. These include the marketing of a film through private screenings, word-of-mouth and social media posts leading to celebrity-backed campaigns.
This is what happened with To Leslie, a fairly low-profile indie which only made $23,304 at the box office and saw Riseborough nominated for an Independent Spirit award but miss out on a Golden Globe or Screen Actors Guild nod. The film has had very little traction this awards season and many anticipated that the fifth Best Actress slot would either go to Viola Davis for The Woman King or Danielle Deadwyler for Till.
Academy members, frustrated that Andrea Riseborough won a nomination without going through the habitual studio-spends-millions avenue, are now kicking up a fuss.
According to the Los Angeles Times, To Leslie 's director, Michael Morris "contacted nearly every one" asking them to watch the film and spread the word about it on social media. 
The snag is that while promoting and advertising yourself or your film is permitted by the Academy, personally contacting Academy voters by telephone is not. For many, To Leslie 's "guerilla" campaign may have violated Academy guidelines, as it constitutes "lobbying" – since only a certain amount of direct contact with voting members is allowed, in an effort to avoid controversies like the ones that have plagued the Golden Globes awarding body, the HFPA (Hollywood Foreign Press Association).
Wherever you stand, one voice of reason in this hullabaloo has been Addams Family and Yellowjackets star Christina Ricci, who has responded to the controversy thusly:
"Seems hilarious that the 'surprise nomination' (meaning tons of money wasn't spent to position this actress) of a legitimately brilliant performance is being met with an investigation. So, it's only the films and actors that can afford the campaigns that deserve recognition? Feels elitist and exclusive and frankly very backward to me."
Regardless of whether the alleged promotional tactics used by the To Leslie team may have broken the Academy rules regulating film promotion and the ban on direct lobbying to voting members of the Academy (as opposed to broader campaigns), the "scandal" unfairly tarnishes a worthy nomination from a fantastic actress, and shows that rules need to be revised. It also brings to light once again that some films are at a disadvantage from the get-go, as the current rules mean that only those who can afford to campaign have a chance of getting a nomination.
Will the Academy find To Leslie 's campaign in violation of the rules? Will they rescind Andrea Riseborough's more-than-merited nomination? Or will they finally figure out what counts and doesn't count as campaigning these days in order to give every film – no matter the budget – a fighting chance come awards season?
Until the Academy's investigation ends, no one knows. The Academy Board of Governors has stated that the issue will be part of the agenda at their next meeting tomorrow, Tuesday 31 January.
What's certain is that Christina Ricci's words ring true once more: "These things aren't controlled or decided by the actors themselves and yet now (Andrea Riseborough's) nomination will be tainted by this. And if it's taken away shame on them."
Shame on them indeed.