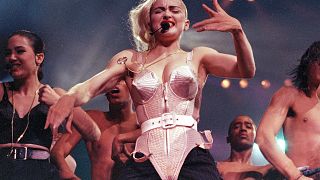 -
Copyright

SANDY HILL/AP1990
Bad news for Madonna fans desperate to see the Material Girl's life story depicted on film. The upcoming Madonna biopic has been axed.
The biopic was set to be directed by the singer herself and feature Ozark star Julia Garner in the title role. 
The news of the cancellation broke after Madonna announced a career retrospective world concert tour last week, although Hollywood Reporter sources claim Universal pulled out of the film last year.
The music biopic has been going through a revival ever since the commercial success of 2018's Bohemian Rhapsody depicting the life of Queen's Freddie Mercury.
Critics of Bohemian Rhapsody found the film pandered to a whitewashed image of Mercury, but the film's box-office success paved the way for a slew of similar films. The far superior Rocketman (2019) about Elton John, 2022's Elvis and Whitney Houston: I Wanna Dance With Somebody have all sprung up in the wake of the Queen biopic.
It was no surprise that Madge would want to get in on the party. 
The film, with working title Little Sparrow, was set to cover the star's four-decade-long career and her rise through the charts to become a cultural icon in her own right.
Despite mixed critical reviews of these biopics, the chance to star as one of music's most legendary characters is too good an opportunity for most actors. Rami Malek won Best Actor at the Oscars for his take on Mercury. Austin Butler could well do the same for his swaggering Elvis impersonation.
Finding the right actor to fill the stilettos in a Madonna biopic is a big task. 
Some of Hollywood's best and brightest signed up for the Madonna Bootcamp in an attempt to star. Florence Pugh, Alexa Demie and Sky Ferreira all signed up to the "gruelling" process, including 11-hour-a-day sessions with choreography classes led by Madonna's choreographer, as well as sessions singing, dancing and acting with Madonna herself.
Julia Garner eventually won out, but the project has sadly been dropped and it doesn't look like it'll be back in vogue anytime soon.
It's a shame as a Madonna biopic, helmed by the icon herself, culminating in her 1990 Blonde Ambition tour could have been an incredible chance to introduce a new generation to the immensity of Madonna's career. Who wouldn't want to see a film about one of music's most impressive performers, hitmakers, and sexual revolutionaries - all to the soundtrack of some of the 80s best songs?
We'll never know how the film would have panned out. But much like Rocketman, which took a non-linear and frank look at Sir Elton's career, it could have distanced itself from the overly sanitised and rose-tinted view presented in Bohemian Rhapsody.
Madonna could have avoided the other pitfall of the musical biopic that plays purely into the exploitative worst instincts of Hollywood.
David Bowie's estate was smarter than licensing the English virtuoso's catalogue to the entirely limp biopic Stardust in 2020. The film didn't feature a single song from Bowie and the music's absence is a glaring indictment of its shallowness.
For Bowie fans, you'll find far more of the elusive musical spirit of the star in last year's ingenious documentary Moonage Daydream.
Unlike Bowie's protective estate, Amy Winehouse's tragic story has seemingly been put up for auction to the highest bidder by her father Mitch Winehouse, who is considered a major negative influence on her life by many.
The upcoming biopic Back to Black directed by Sam Taylor-Jonhson (Nowhere Boy, Fifty Shades of Grey) and starring Marissa Abela has already courted controversy as on-set shots have given people the impression the film will crudely drag Winehouse's life story through the mud in many of the same cruel ways the press treated her when she was alive.
Other upcoming biopics include a Bob Marley film by King Richard director Reinaldo Marcus Green and starring relative newcomer Kingsley Ben-Adir in the title role.
Another biopic we won't get to see anytime soon, however, is of the late Wham! singer George Michael. 
A Daily Mail story claiming a "warts and all" film starring Theo James from White Lotus has been denied by Michael's estate, George Michael Entertainment (GME).
"On behalf of George's family and GME we want to make it clear that there is no truth whatsoever in this story, we know nothing about this project and will not be endorsing it in any way," a statement on his official Facebook page read.