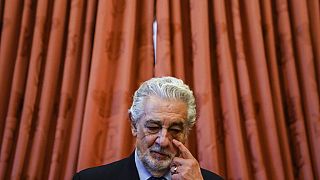 -
Copyright

Manu Fernandez/Copyright 2021 The AP. All rights reserved.
World-famous Spanish opera singer Plácido Domingo is in trouble again over fresh sexual harassment claims. 
The un-named woman behind the allegations is understood to be a former colleague of the tenor and the 'first Spanish woman' to allege sexual assault by the tenor, claiming his behaviour was widely known in the opera world two decades ago.
The anonymous Spanish singer says the opera star tried to kiss and touch her in the early 2000s. Speaking on  La Sexta's Salvados programme she said: "One of the first things they tell you is don't go up in the lift alone with Placido Domingo." 
The woman gave details of two separate incidents. 
In the first, her rear trouser pocket was the main subject. "He asked me a very strange question in front of everyone . Can I put my hand in that lovely pocket of yours?" she told the programme.
"What he said made my stomach hurt. If I had said no, there would have been consequences. I don't even want to think about what could happen if I say yes." she added.
"In the dark, Plácido kissed me on the mouth and I couldn't escape"
The second alleged incident took place when they were performing together on the stage, and the lights had gone out to mark the end of the act.
"When it was dark, Placido came next to me and kissed me on the mouth. It was a kiss that I didn't even see coming and so I couldn't escape.  I did not want to be kissed. The act had ended, the music had stopped and the curtain was coming down. There was no justification whatsoever."
She said she had been too afraid to speak out because of the possible consequences for her career, but found courage after others came forward.
The alleged victim talked about the women who had spoken and claimed similar sexual harassment by Domingo, almost four years ago.  "I thought how brave they were," she said. "It's something that's known about in the opera world: one of the first things they tell you is: 'Don't get in a lift with Plácido Domingo."
The tenor's representatives did not respond to a request from Reuters for comment on the latest allegations.
Over 20 women accused him, Domingo apologised and resigned
The Associated Press first reported sexual harassment allegations against Domingo almost four years ago, and at least 20 women so far have accused him of incidents that date back to the 1980s.
LA Opera, the Los Angeles opera company announced that investigators had substantiated 10 'inappropriate conduct' claims made against the famous tenor. 
Plácido Domingo started to work in the company as an artistic advisor almost 35 years ago. He resigned as a general director on October 2019, saying that accusations of sexual misconduct had compromised his ability to continue in the role.
In all, 21 women have come forward to the AP with accusations against Domingo, the most recent of whom spoke out on 2020 February.
The investigators are from the law firm of Gibson, Dunn & Crutcher LLP and were led by former United States Attorney and Superior Court Judge Debra Wong Yang. They say that they found the allegations credible in part because many of the accusers offered "similarities in their accounts." 
The investigators interviewed 44 individuals in all, including those alleging misconduct, Domingo himself, LA Opera management and company board members.
However, Domingo denied ever abusing his power during his management tenure at two U.S. opera houses, as he embarks on a campaign to clear his name after two investigations found credible accusations he had engaged with 'inappropriate conduct' with multiple women over a period of decades.