Opera union launches its own investigation into sexual assault allegations against Placido Domingo
Comments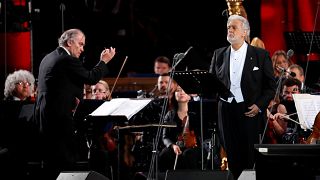 The union that represents opera performers has launched its own investigation into sexual harassment allegations against opera star Placido Domingo arguing it's not sure that opera companies will look sufficiently look at the accusations.
The American Guild of Musical Artists said its investigation was instigated by two AP stories in which multiple women accused the opera legend of sexual harassment or other inappropriate conduct.
In an email to its members, the union said it had asked companies that employed the 78-year-old opera star to fully investigate the allegations but that the companies were "unwilling or unable to provide AGMA (the union) with sufficient assurances about the scope and timing of their investigations, as well as whether or not the findings will be publicly disclosed or otherwise made available to the union."
The Los Angeles Opera where Domingo has been general director since 2003 said it hired an external investigator but declined to disclose how the investigation would be conducted or whether the results would be made public.
The union's investigation will be conducted by criminal defence lawyer J. Bruce Maffeo, who is the past worked as a federal prosecutor.
The union's national executive director, Len Egert, said the investigation would "examine the systemic failures within the industry that could have allowed this conduct, if substantiated, to continue unchallenged for decades."
In AP's original story, numerous accusers have alleged Spanish-born Domingo used his star power and influence to sexually harass and assault women, dangling the prospect of work in exchange for sex and sometimes professionally punishing women who refused his advances.
Speaking to the Associated Press, nine accusers — whose claims date back to the 1980s — say they were harassed by the 78-year-old at venues that included opera companies where he held top managerial positions.
One said Domingo had stuck his hand down her skirt and three others said he forced kisses on them in a dressing room, at a hotel room and a lunch meeting.
In addition, half a dozen other women said he had made suggestive overtures to them that made them feel uncomfortable and almost three dozen other singers, dancers, orchestra musicians, backstage staff, voice teachers and administrators who said they witnessed inappropriate behaviour or knew that Domingo sexually pursued young women.
A former opera administrator said he had been aware for years that Domingo was "constantly chasing" one of the women who alleged sexual harassment.
He said that after she "said no to Domingo, she had the rug pulled out for several years".
A spokeswoman for Domingo said he accusations were "riddled with inconsistencies" and "in many ways, simply incorrect," but offered no specifics.
Domingo is regarded as one of the greatest opera singers of all time and is the current director of the Los Angeles Opera.
Read more: Sexism and misogyny called out at first World Cup since #MeToo
In an earlier statement, Domingo said: "The allegations from these unnamed individuals dating back as many as thirty years are deeply troubling, and, as presented, inaccurate.
"Still, it is painful to hear that I may have upset anyone or made them feel uncomfortable — no matter how long ago and despite my best intentions.
"I believed that all of my interactions and relationships were always welcomed and consensual. People who know me or who have worked with me know that I am not someone who would intentionally harm, offend, or embarrass anyone.
"However, I recognize that the rules and standards by which we are — and should be — measured against today are very different than they were in the past. I am blessed and privileged to have had a more than 50-year career in opera and will hold myself to the highest standards."
The Los Angeles Opera said on Tuesday that it would begin an investigation into allegations of sexual misconduct.
In a statement, it said: "LA Opera will engage outside counsel to investigate the concerning allegations about Placido Domingo".
It added that it was "committed to doing everything we can to foster a professional and collaborative environment where all our employees and artists feel equally comfortable, valued and respected."
The Philadelphia Orchestra Association said on Tuesday it had withdrawn an invitation to Domingo to appear as part of its opening night on Septa. 18.
The Metropolitan Opera in New York, where Domingo is due to perform in "Macbeth" next month and "Madama Butterfly" in November, said in a statement that it took accusations of sexual harassment and abuse of power seriously but would await the results of the LA Opera investigation "before making any final decisions about Mr Domingo's future at the Met."