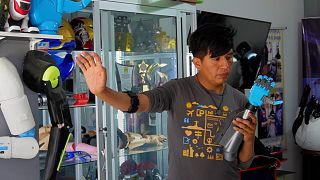 -
Copyright

Ida Penaranda
SCENES shines a spotlight on youth around the world that are breaking down barriers and creating change. The character-driven short films will inspire and amaze, as these young change-makers tell their remarkable stories.
Roly Mamani, a Bolivian inventor, built his first remote-control car when he was just six years old. Unbeknownst to him, this was the start of a successful robotics career.
"When I was a kid, I was able to create things with what I found. I think it was because of the necessity to have toys. Growing up without toys helped me when I was a kid. It helped me to discover myself because I had to make my own toys," reflects Roly.
Roly created toys at such a young age that his family questioned their usefulness. "My mother didn't understand when I started making small boats at the lake. She used to tell me: 'Don't you have something important to do?' I always respectfully responded to her, saying that this was my job so they could understand," he says.
Purpose-driven knowledge
Roly studied electronics and robotics in college. As any visionary would, he produced prototypes, competed in contests, and constructed animatronics. He enjoyed this part of his life but questioned why it mattered if he did not apply this expertise to something practical that could benefit humanity.
Roly's turning point came when he realised his society had no suitable solutions for people with mobility issues, especially in impoverished and marginalised communities. Through his Robotics Creators company, he has developed bionic devices and prosthetic limbs accessible to everyone in Bolivia.
"What drives me is that we can improve people's quality of life. When I see a person with a motor skill problem - paralysis or the loss of a limb - we can overcome these problems. Thanks to technology, we are able to create solutions."
Improving people's quality of life
Roly has devoted the last three years to creating biomechanical and robotic prostheses of upper limbs, ranging from fingers, hands, and forearms to full arms, for those who need them, including those who cannot afford the cost of the parts.
"We think of ourselves as creators," he tells Scenes. "We don't just make one thing; we create products that, most of the time, bring people to us who need our help. In turn, this lets us develop a wide range of health technology solutions."
The two have a lot in common
Roly's career success stems from his desire to improve people's quality of life. "When I see a disabled individual, I don't see a problem; I always see a solution that we can work out," Roly explains. Likewise, 22-year-old Ramiro Jiminez is also a successful robotic creator from Bolivia who uses his skills to help society.
Ramiro, like Roly, ignored negative voices that encouraged him to give up on his ambitions. He persevered, finding unconventional ways to fund his creations.
"I saw a report about Ramiro which said that his father sold his bull to get money for him so he could finish his project. He found a way and continued with his work," Roly says. "I feel really proud that he went to college and is my colleague - and that he stands out."
Ramiro's invention
Ramiro was 16 when he started the prototype of his invention, 'Satiri', which means sowing in the Aymaran language, one of Bolivia's indigenous languages.
"Satiri was born with the idea of helping my parents with their agricultural labour. Its purpose is to plant potatoes," Ramiro says.
About his friend's invention, Roly says, "There was a science fair in Rio Seco (La Paz). There I saw Satiri carrying more than six people at the time, and his robot started to go. It's a project that will make it far when he can implement it at scale."
Twenty-one prototypes later, Ramiro's innovation has successfully ploughed fields and planted potatoes in record time across the Bolivian Altiplano. This high-altitude plateau extends across much of western Bolivia and into other regions of South America.
Magical technology
Technology is magical for robot creators like Roly and Romani because they can accomplish many things with knowledge and equipment. The duo hope their story will inspire a new generation of Bolivians to explore alternative career options for a better future.