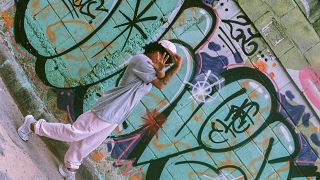 SCENES shines a spotlight on youth around the world that are breaking down barriers and creating change. The character-driven short films will inspire and amaze, as these young change-makers tell their remarkable stories.
It's Wednesday night at the Casa Do Hip Hop in downtown São Paulo. It's practice night here. A group gathers and breakbeat music starts to play. Out of the six people, there's one woman, B-Girl Toquinha. In baggy pants and designer sneakers, the 20-year-old arrives on time and dances seamlessly for two hours to the beat.
"I don't think of anything when I dance, nothing. It's a moment when I turn off my mind and stop thinking about absolutely everything, problems, everything," says B-Girl Toquinha, whose real name is Naiara Xavier Santos.
Brazil's breakdancer
B-Girl Toquinha is now one of the leading breakdancers in Brazil. She began her journey in 2015 by enrolling in local dance classes. "In this social project called Mais Educação, there was futsal, capoeira, graffiti and breakdancing and me being me, I took all the classes, but breakdancing won my heart and my life," Naiara tells Scenes.
Breaking battles
Breakdancing is a hip-hop style of dance that started in the 1960s on the streets of New York and exploded into the mainstream soon after. Breakdancing combines elements of dance and acrobatics and often involves dance battles, adding to its competitive reputation.
B-Girl Toquinha relishes breaking battles, where she pits her dancing skills against a single opponent to see who has the best moves. "I always liked to battle, the energy that battle brings me, the moments that battles give me," she explains.
After three months of breaking, aged just 14, Naiara won her first competition. She has since gone on to win numerous battles across the country. In 2021, she earned a place on Brazil's national breakdance team after winning the biggest individual competition between B-Girls and B-Boys in Brazil, the Red Bull BC One Cypher. The judges award the practitioner points for their creativity.
Breaking at the Olympics
Breakdancing was announced as an official sport by the International Olympic Committee (IOC) in December 2020. It will make its Olympic debut at the 2024 Summer Olympics in Paris. The breaking contest will consist of two elements, one for women and one for men, where 16 B-Girls and 16 B-Boys will go face to face in solo battles.
The urban sport joins the likes of skateboarding, surfing and sport climbing in IOC's pursuit to attract a younger audience to the historic competition. Naiara is determined to represent Brazil at the Games. "For the 2024 Olympics, I believe I'm on the right path. I'm training a lot. I have everything and I really want to be there, get the medal and represent Brazil in the best way," she says.
Olympic Dreams
Naiara lives in a favela, in the Recanto dos Humildes community in São Paulo. Her father, a bricklayer and mother, a cleaner, fully support her Olympic dance ambitions.
"I think this determination came from my parents, always seeing them work hard and not expect anything from anyone. The rat race is much crazier for those who are not privileged in life," she recalls.
From the favelas of Brazil to international status for her country, B-Girl Toquinha is battling her way through it all. "Representing Brazil means so much to me because I'm from a favela. I'm from a modest family and I've always chased my dreams. Today, to be where I am, in the first Brazilian breaking team in history, I have no words."