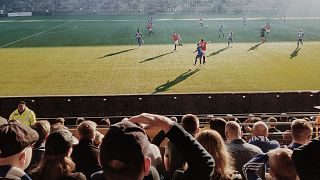 -
Scottish football team Raith Rovers have dropped a player found guilty of rape after the withdrawal of funding from bestselling author Val McDermid.
McDermid, who is known for her prominence as a crime writer, said she felt "physically sick" over the signing of David Goodwillie and would stop her sponsorship of the team, of whom she is a long-time supporter.
Goodwillie, a 32-year-old former Scotland international, was ordered to pay damages of £100,000 (€119,000) to a woman he raped by an Edinburgh court judge in 2017.
The multi-million selling author of the 'Dr. Tony Hill' series described second division club Raith Rovers' decision to sign David Goodwillie on January 31 as a "disgusting and despicable" move that "shatters any claim to be a community or family club."
Raith Rovers have a stand named after McDermid and her name adorns the front of their football shirts.
The club has U-turned on the signing
In a statement on released today Raith Rovers apologised and said they had made a mistake.
"In reaching our original decision, we focused far too much on football matters and not enough on what this decision would mean for our club and the community as a whole," read the statement, issued by the Chairman of the Raith Rovers board.
"Over the past couple of days, we listened carefully to the fans who have got in touch and I'm very grateful for their honesty. As chairman, as a board and as a management team, we have all learned a hard but valuable lesson," it continued.
McDermid was not the only person to denounce the design to signing Goodwillie with women's team captain Tyler Rattray, who has been with the club for a decade, resigning her position in response.
The situation also drew comments from Scottish First Minister Nicola Sturgeon who described the actions of Rattray and McDermid as "principled".
"But the fact they're in this position at all, reminds us that our society still has a way to go to make zero tolerance of sexual violence a reality," Sturgeon added.
Confirming they were no longer proceeding with Goodwillie's signing the club said, "This very unfortunate episode is something that we all bitterly regret and we are now wholly committed to making things right."
'First step on a long road'
For her part, McDermid appears to remain sceptical of the club's actions.
The 'tartan noir' novelist described the statement as "a victory of sorts".
"I welcome this (unsigned) statement from Raith Rovers. It's a victory of sorts for the hundreds of people who MAKE the club who were appalled at the board's original decision and who were not afraid to speak out," she wrote.
"But it's the first step on a long road back."
Engaging with other fans on Twitter McDermid has repeatedly stated that there can be no rehabilitation without remorse.
Appearing on the BBC show 'Woman's Hour' yesterday the author criticised Goodwillie saying he "never demonstrated a moments regret or responsibility for what he did."