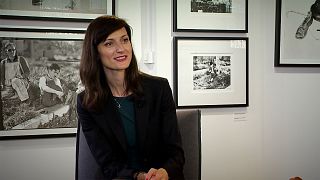 It is one of the biggest events of its kind, the Lumiere classic Film Festival in Lyon, France, celebrating its 10th edition this year and drawing in stars from around the world.
Lyon is where it all began, where cinema was perfected by the Lumiere brothers before it spread like wildfire, captivating audiences everywhere.
Today European movies struggle to cross borders, face stiff competition from the US and now have to contend with big digital players on the market.
Though a struggle, it's not a losing battle. At a special Charlie Chaplin exhibition at the festival we meet with the European Commissioner for the Digital Economy and Society, Mariya Gabriel.
Isabell Kumar, euronews:
"The Lumiere festival is obviously a celebration of classic movies, but it seems that European cinema is more and more eclipsed on the world's screens."
Mariya Gabriel:
"And yet it's not true. The figures show that in the last two years there's been growth in feature film making of 45%, and European productions sell well, reaching a larger and larger public. This is happening with the industry going through a period of incredible transformation, in public tastes, in how movies are distributed, and also in the context of radical changes in the digital landscape."
Isabelle Kumar:
"And that is precisely why you are here, to launch the Directory of European films, which is creating quite a buzz. Why?"
Mariya Gabriel:
"It will enable our film producers to be better-known in Europe, which remains a challenge. We must ensure that European movies are seen throughout Europe, and not have movies that are only seen in three or four member states."
Isabelle Kumar:
"But it's not only a commercial question for you. It's also a question of shared values, and what role cinema can play in a Europe that seems increasingly divided, correct?"
Mariya Gabriel:
"Today, thanks to cinema, we have resources at our disposal to mobilise values we hold dear, like diversity, culture and knowledge and appreciation of others, and how they work. To understand filmmakers and what they have to say. These are the values that make us Europeans."
Isabelle Kumar:
"You are an ardent defender of male-female equality, but at the Lumiere festival only two out of ten prizes are won by women."
Mariya Gabriel:
"What we can say is there is already alternation: In 2016 a woman, (Catherine Deneuve), won, in 2017 it was a man, (Wong Kar-wai), and now this year a woman again. This is an encouraging trend and I hope it continues.  Obviously, I hope that it will always be centred on quality and merit, and the body of work, but we are already in a world where the message is maybe to shine more light on our incredible talents, where there are as many men as women."