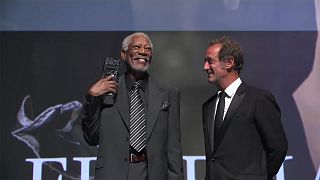 The Deauville Film Festival is France's annual tribute to American cinema, and this resort town on the Normandy coast's special guest this year was Morgan Freeman.
The 44th edition of the gathering gave Freeman a ceremony paying tribute to his long and diverse career.
He also inaugurated his very own personal beach hut, chic Deaville's take on Hollywood's Walk of Fame.
Now 81 years old, the Academy Award winner had a few words of wisdom about the industry to share with Euronews: his secret? Be willing to take risks and don't hesitate to reject a role.
"It's always an attempt to put you in a box because that's what you're good at. "I saw you. You're good at that. So here, here's another one. Do that." You want to say, "Well thanks I've done it. I need something different." And then you have to prove that you can do something different," he told us.
The festival's Jury Grand Prix went to "Thunder Road".
The independent movie tells the story of a desperate policeman trying to come to terms with his life while juggling the education of his daughter.
Jim Cummings writes, directs, and stars in the movie , his first full-length feature, and a development of a 2016 13-minute short.
"I think the future of filmmaking is people like me. I think the technology is here now where you are able to make a movie with your friends in the backyard and if you focus on the right things, if you focus on performance and storytelling and craftsmenship of cinema, it's democratic ,
anyone can do it now," he says.
The president of the jury, French actress Sandrine Kiberlain had no doubt about her team's decision.
"To witness the birth of an artist like this, with such freedom, such a statement, because he delivers a very strong message and with such humour, it is extraordinary. He held the film from the beginning to the end, he takes us in. His work really compares with Nanni Moretti or Woody Allen. We even mentioned Chaplin during the deliberations," she said.
"We the animals", won the New Talent prize for Jeremiah Zager. a coming-of-age movie.
The movie is based on the book by Justin Torres, and the author was also involved throughout the filmmaking process: from script writing, to casting and shooting, and even in the editing room.
"It's a very lyrical film, a very poetic film, it's very episodic and much like the book. It's choppy and fragmented and quite unusual, I think," said Torres.
Operation Finale, which has had a mixed critical reception on release was screened, as Sir Ben Kingsley was in attendance to talk playing Adolf Eichmann, the second role he has shared with Robert Duvall, trivia fans.
To prepare, he met with Holocaust survivors.
"My information on those terrible years of extermination between 1933 and 1945 were given to me not in a twisted ideological sense but from the very mouths and hearts of the victims whom I grew to love and respect enormously," said Kingsley.