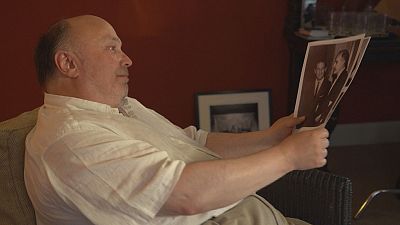 Acclaimed British director Keith Warner has been waiting decades to stage 'Vanessa'. He has a personal link to the opera - he was friends with the Italian composer and writer Gian Carlo Menotti, who was Samuel Barber's life partner and wrote the libretto for this masterpiece:
"I knew him when he was in his 80s about 15 to 20 years ago," Warner says: "I knew him very well, particularly over one summer when I lived in a sort of apartment at the bottom of his garden, and he would wave me over in the evenings saying, 'Come and have dinner, 9 o'clock', or whatever. And then you would walk in and you would be given a beautiful kind of supper with this incredibly elegant man who then had beautifully cut hand suits and shirt and a tie even though it was a 100 degrees."
Walker recalls long evenings with an inspirational figure who talked eagerly about what had inspired him: "He would then talk and he wanted to talk. He wanted to talk about what was happening in the theatre now, what I had seen, what was going on in London, in New York, but also would want to talk about his life. I think, like most of us as you get older, you like to reminisce and it was just to most wonderful creamy outpouring of stories and anecdotes about all the people he had known and himself.
"I did talk to him about 'Vanessa' because I always wanted to do it. I tried to convince many opera houses over the years to do it and Glyndebourne is the only place that is nutty enough to have finally agreed. And I asked him several things; I got a general gist of what was important to him and what he would say had been important to Samuel Barber who died somewhat earlier. I hope, and I hope in a way because I knew Gian Carlo, that one has done something that he would recognise and he would feel good about."
The footage has been recorded at the dress rehearsal.