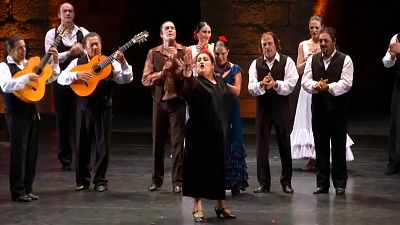 [The Antonio Gades Dance Company](https:// antoniogades.com/en/company/agenda) thrilled the audience at the [Beiteddine Art Festival](http:// beiteddine.org/ Up- coming- events.asp) in Lebanon.
The annual summer event takes place in the large 200-year-old Beiteddine Palace in the Chouf Mountains in the southeast of Beirut.
The Spanish flamenco dance group performed dance adaptations of Federico Garcia Lorca's "Blood Wedding".
Although Lorca was executed in 1936 during the civil war, he is still extremely popular.
Managing Director of the Antonio Gades Foundation, Eugenia Eiriz says, "His works keep on being one the best ways of expressing the Spanish soul, and therefore, a lot of flamenco choreographers choose his work to express to the people the Spanish soul.
The company was founded by Spanish flamenco dancer and choreographer Antonio Gades who died in 2004.
He helped to popularize the flamenco art form on the international stage.
The Beiteddine Art Festival in Lebanon continues until the 11th of August with German singer Ute Lemper, Arab composer and singer Kadim El Sahir, French singer and former first French lady, Carla Bruni- Sarkozy and Montreal-based troupe Cirque Eloize
The Antonio Gades Dance Company will be back on the road in September in Oman.