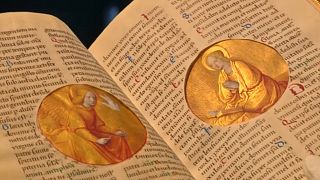 A businessman accused of fraud claims he has been vindicated after a medieval manuscript was sold for more than €4 million at an auction house in Paris on Saturday.
The 15th century work by Jean Poyer contains 16 gold medallions and fetched more than four times its estimated price.
Former owner Gerard Lheritier is facing prosecution for frauding investors with a company that acquired 130,000 artworks and literary treasures - but he says the high prices being obtained in the bankruptcy sale show that his scheme was genuine.