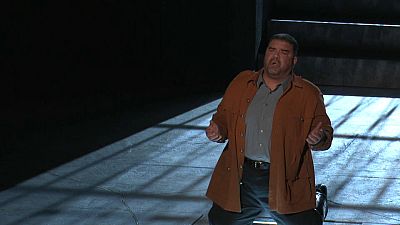 The Odeon of Herodes Atticus in Athens will play host to Verdi's Nabucco, presented by the Greek National Opera from Friday, as part of the Athens Epidaurus Festival.
Nabucco tells the story of the struggle between the Hebrews and Babylonians whose king is Nabucco.
The opera put an end to a string of failures for composer Giuseppe Verdi, and marked the end of a period of great sadness in his life.
It is perhaps best known for the chorus of the Hebrew slaves, serving as a quasi-national hymn for Italy, expressing their collective resistance against the Austrian occupation.
Opera director Leo Muscato said the story contains many important archetypes.
"Our concept to set the plot of the opera in a time nearer to our contemporary world, helped us to highlight issues and facts, that, in some way, can attract the attention of our audience," he said.
The lead role is played by renowned Greek baritone, Dimitri Platanias.
His performance has received acclaim after performances at prestigious venues around the world including the Royal Opera House, the Bavarian State Opera and the Opera Stuttgart.
"Its (Nabucco's) melodies always remain in the brain and the ears of the audience, beyond the famous chorus of the Hebrew Slaves. Every time it is a different challenge for me. The music is the same. It is beautiful. If I get tired of it in the future, I promise, I will stop singing this role," he said.
Nabucco is conducted by Philippe Auguin who is also the music director of the Washington National Opera and the Kennedy Centre Orchestra in Washington DC.