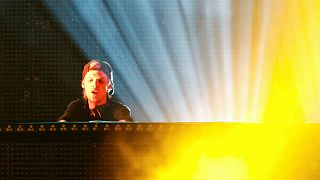 Copyright

REUTERS/Eduardo Munoz/File Photo
The death of 28-year-old Swedish DJ Avicii last week has shocked and saddened fans around the world, who are now paying tribute to the star and remembering the impact his music had on their lives.
The DJ and producer, whose real name was Tim Bergling, had established himself as one of the most popular and successful electronic dance music artists of all time with hits including "Wake Me Up", "Levels" and "Hey Brother".
He died in Oman on Friday, with police saying no evidence of foul play had been found.
Euronews contacted fans from countries including Italy, Colombia, and Lithuania to find out what Avicii meant to them.
"It's DJs like Avicii who bring people together," said Giorgio Fasoli from Milan, Italy. "His songs gave a bit of happiness to our generation."
Following statements from his family that Avicii "could not go on any longer" and "wanted to find peace", Laura Barbosa from Bogota, Colombia, said the DJ would "always be in my heart."
"Your fans never knew what was happening all this time, all of the hard times you went through, but we love you a lot, we will always remember you", she said.
Others remembered the impact his music had on their lives.
"When I heard his 'Wake Me Up' song, I am an expat myself so I could really relate. Sometimes I travel to places and I just feel like I don't belong. So that's why this song really touched my heart," said Monika Bik from Lithuania.
Watch the video above to hear more from Avicii's fans.