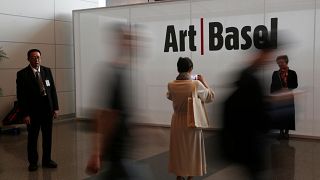 Two-hundred-and-forty-eight leading galleries from 32 countries are showcasing their work at Asia's largest contemporary art fair.
Art Basel Hong Kong is in its sixth edition and features some of the biggest names on the international contemporary arts scene.
Chinese collectors continue to play a dominating role in global art sales with steady growth recorded year on year.
According to a report by Art Basel and investment bank UBS, China has now narrowly overtaken the UK making it the second largest market, behind the US.
This year the event is noticing a significant boost from China's new generation of collectors, according to organisers.
"I think one of the most unique factors in the Chinese collector scene is the fact that there are so many different generations of collectors. You know from very, very seasoned ones to young collectors in their 20s. And I think over the years we do witness that there's a change in tastes. Also changing interests in medium and also artists from across the world," says Adeline Ooi, Director Asia, Art Basel.
None other that world famous artists Jeff Koons was at the opening, showing his series of "Gazing Ball" works:
"The word that's used the most in philosophy is to reflect. And so that's why I work with reflection. And when you see something reflective, it affirms you. But then it also affirms everything else in the world and the universe," he says.
Another global superstar featured at the event is Dutch abstract expressionist artist Willem de Kooning.
His vibrant painting "Untitled XII", measuring 79 by 69 inches, sold for a massive 35 million US Dollars just over an hour after the fair opened.
Works by leading Chinese famous female artist Yu Hong, whose works often reflect the rapid social change in China, and Beijing-based artist Song Dong, who is at the forefront of the country's conceptual arts scene, also caught the eyes of international buyers with their large scale works.
A hunger for emerging galleries has also seen countries including Iran and Turkey debut work at Art Basel Hong Kong.
Director of Iranian Gallery Dastan from the Iranian capital of Tehran says the attention his works have received within just a few hours of the event opening is encouraging:
"The large audience in China is very, very important to us because Iranian art has had many exchanges with Chinese over the centuries. So we are very happy to engage with the audience in contemporary times," he adds.
Art Basel Hong Kong is open today and tomorrow (28 March 2018) for VIP private viewings and will open to the public from March 29 to March 31.