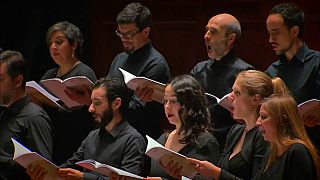 Lost for nearly 300 years - a mass in D Major by Italian composer Giovanni Battista Pergolesi is proving popular with audiences across Europe after being rediscovered by researchers.
In the latest performance the Ghislieri Choir and Orchrestra, one of Europe's best Baroque orchestras, put the work on in Amsterdam.
Conductor Giulio Prandi says the newly discovered Mass shows a new and more joyful side to the 18th century composer.
"Sacred music in this period and especially Pergolesi's contribution to this music, is really a theatre of soul. It's not opera, not at all, it's a theatre of emotion."
Prandi has performed the mass at concerts in Belgium, the Netherlands and Italy and this month released the first recording of it on CD.
He said the reaction from the audience had been overwhelming.
The mass, believed to have been composed around 1731, was stitched together two years ago by Italian musicologists from a patchwork of sources in different libraries.
Prandi and his Ghislieri ensemble will perform the mass at festivals in France, Germany and Malta in the coming year.