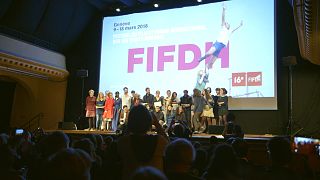 Around 35,000 came to see the many documentaries and films, while also attending the various debates at the International Film Festival and Forum on Human Rights in Geneva.
Best Fictional Film awarded to "Oblivion Verses" by Iranian Film Director Alireza Khatami.
"Oblivion Verses" is a philosophical parable about an old cemetery caretaker who embarks on a mission to give a proper burial to the body of a young woman killed during civil protests. The storytelling is mixed with poetic and surrealistic references to the old man's own vanished son. For the film director, one of his inspirations was the generation of soldiers who disappeared during the Iran-Iraq war
Alireza Khatami: "It is an universal story, because everybody regardless of where they come from, can connect to the concept of loss, everybody understands how painful it is to lose someone in your life that you love."
The Peace and Reconcilliation award went to "The Cleaners" by German film director duo Moritz Riesewieck and Hans Block.
The documentary is about a hidden industry of digital cleaning, where internet platforms such as Facebook, Youtube and Twitter get rid of violence, pornography and political content – a censorship of our digital world.
Moritz Riesewieck: "This virtual public is not organised in a democratic way; what can be said online is not decided by a majority, it's not decided by a parliamant or an institution as in a democratic analogue world. It's decided by a little circle of people in the Silicon Valley, which outsources the final responsibility into the hands of young Philipinos to control and execute."
The Youth Jury Award went to the film "The Distant Barking of Dogs" by Danish film director Simon Lereng Wilmont.
The documentary is about an orphaned ten year old boy who grows up with his grandmother, close to the front line of combat between Ukrainian and pro-Russian forces in the Donetsk region of eastern Ukraine. The documentary shows in a poetic way the impact of war on children.