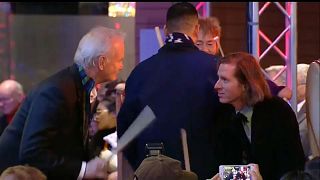 The Berlinale Film Festival has opened in the German capital for its 68th annual edition.
Among the stars parading on the red carpet were Wes Anderson, whose new film 'The Isle of Dogs' became the first animated feature to open the festival.
Bill Murray and Tilda Swinton lend their voices to the festival opener and other members of the star-studded cast were at the opening, which saw Murray goof around with Anderson on a drumkit, giving the public a taste of what was to come.
The movie tells the tale of a Japanese city that deports its dogs to a garbage dump island during an outbreak of canine flu, and is in the competition for a prestigious Golden or Silver bear award at this year's festival.
"Who will get a bear award? 19 movies are competing in the international competition for the gold and silver Bear awards. Over 400 movies are shown in the various programmes over ten days. Right now everything is about movies and movie stars in the German capital," reports euronews' Wolfgang Spindler from Berlin.