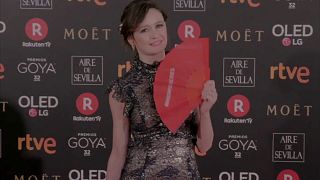 Established screen stars Penelope Cruz and Javier Bardem were among the best of Spanish film talent honoured on Saturday at the 2018 Goya Awards in Madrid. Some carried red fans carrying the slogan 'more women' to highlight inequality in the industry. The initiative is a direct response to the Hollywood movement, which has grown since the Harvey Weinstein sexual-abuse scandal came to light in October last year. 
The Basque drama Handia about the world's tallest man won ten awards from thirteen nominations including best cinematography that went to Javier Agirre.
The award for best film went to The Bookshop, directed by Isabel Coixet, who also won best director. The drama is set in England in 1959 and tells the tale of a woman who, despite polite but determined local opposition, decides to open a bookshop, with all the politics entailed in such a venture at that time.
Best leading actor was scooped by Javier Gutierrez for his role in El Autor. He plays a man with lofty ambitions of writing high literature, an obsession that causes a lot of conflict around him.
Hollywood star Penelope Cruz lost out to Natalie Poza who won best leading actress for her part in Can't Say Goodbye. It's a touching drama about a woman who travels around Spain with her dying father in a race against time and sickness.
The Goya Awards are the Spanish equivalent of the American Oscars and always deliver a star-studded red carpet.