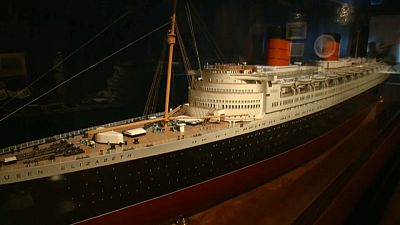 London's Victoria and Albert museum is setting sail with a new exhibition which re-imagines the golden age of ocean travel.
With over 250 objects, Ocean Liners: Speed and Style, includes paintings, sculpture, furniture and fashionwhich the curators hope will demonstrate how ocean liners helped shape the modern world,
"It was the moment of true internationalisation in a way, globalisation, connection between cultures, and these ships were more than just a means of conveyance, " explains Daniel Finamore, Co-curator and the Russell W. Knight Curator of Maritime Art and History, Peabody Essex Museum. "But they also transmitted ideas, values, artistic ideas."
Ghislaine Wood, Co-curator and Deputy Director of the Sainsbury Centre for Visual Arts, University of East Anglia agrees.
"For many people, their most visceral experience of the modern world was aboard the liner, especially because of immigrants travelling to a new life, perhaps in America or in South America, their first experience of a modern piece of technology would be getting on board a liner to travel to a new life," she says.
Other exhibits include a Cartier tiara rescued from the ocean liner Lusitania and a fragment of a panel from the first-class lounge of the Titanic, which sank in 1912.
The exhibition can be seen at the V&A until mid June.