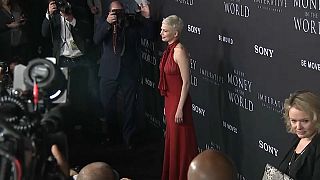 -
Hollywood actress Michelle Williams has thanked her co-star Mark Wahlberg for donating a re-shoot fee to Time's Up, the movement against sexual harrassment.
The newspaper USA Today reported that whilst Wahlberg was paid one and half million for re-shooting All the Money in the World, Williams got less than a thousand dollars.
Hollywood agency William Morris Endeavor, which represents both stars, said it would also donate $500,000 to Time's Up.
It had already pledged to give $1m earlier this month.
Scenes had to be re-shot after Kevin Spacey was removed from the completed film following the allegations of predatory sexual behaviour and replaced by Christopher Plummer.
The Time's Up campaign is a movement against sexual harassment that was founded at the start of January in the wake of the Harvey Weinstein sexual harassment revelations in Hollywood.