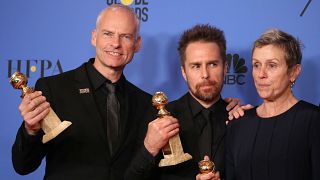 "Three Billboards Outside Ebbing, Missouri", won 4 Golden Globe awards with Frances McDormand as best actress
The black comedy crime film by British and Irish film director Martin McDonagh won the Best Motion Picture – Drama, Best Actress – Drama (McDormand), Best Supporting Actor (Rockwell), and Best Screenplay, while also receiving nominations for Best Director and Best Original Score.
Mexican film director Guillermo del Toro won a Golden Globe as Best Director for his movie "The Shape of Water " - the movie won also for Best Original Score
The dark fantasy tale about a mute women at a high-security government laboratory who befriends a captured an amphibious humanoid creature was also nominated for Best Motion Picture – Drama, Best Actress – Drama (Hawkins), Best Supporting Actress (Spencer), Best Supporting Actor (Jenkins), and Best Screenplay.
There were two Golden Globes for "Lady Bird" with Saoirse Ronan winning best actress award.
The coming of age drama by American film director Greta Gerwig won also Best Motion Picture – Musical or Comedy the movie also had nominations for Best Supporting Actress (Metcalf) and Best Screenplay. Saoirse Ronan
German film director Fatih Akin won the Golden Globe for Best Foreign Language movie
The film, which is actress Diane Kruger's first German language film is the story of a young woman who seeks revenge after her family is killed.
The movie is currently in the shortlist of 9 films for the Foreign Language category at the Academy Awards.
The most successful TV Series went to "Big Little Lies" with 4 Golden Globes
The show about the apparently perfect lives of a group of women living in an affluent California coastal town, who's lives unravel to the point of murder won Best Actress – Mini-series or Television Film for Nicole Kidman, Best Mini-series or Television Film, Best Supporting Actress for Laura Dern and Best Supporting Actor for Swedish Actor Alexander Skarsgård.