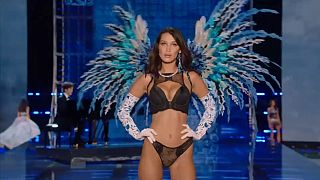 The Victoria's Secret Shanghai show went from celestial to controversial. The brand's famous Angels walked the catwalk with a few stars missing, amid rumours model Gigi Hadid and singer Katy Perry had been barred from entering China.
It meant they were out of Alessandra Ambrosio's last show and Bella Hadid missed a chance to walk with her older sister.
I'm so bummed I won't be able to make it to China this year. Love my VS family, and will be with all my girls in spirit!! Can't wait to tune in with everyone to see the beautiful show I know it will be, and already can't wait for next year! :) x

— Gigi Hadid (@GiGiHadid) November 16, 2017
There has been no official reason given for Gigi Hadid's absence, but she caused controversy earlier this year by posing with a fortune cookie that looked like Buddha and squinting in a way some Chinese people considered racist.
Perry, who was rumoured to be the show's planned musical star, is believed to have had a visa request denied for wearing a sunflower dress at a concert in Taiwan two years ago. The flower became an anti-China symbol in 2014.
The show itself was the usual glamourous affair, with one highlight being a 1.7 million euro bra, made up of 6,000 gemstones of 300-carats.