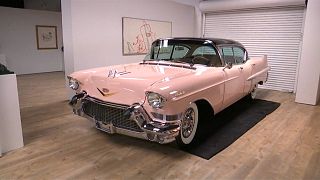 Memorabilia belonging to some of the 20th Century's biggest icons such as Elvis Presley's pink Cadillac is to go under the hammer in New York. The car, which could fetch as much as two million dollars, sits alongside a collection of gowns belonging to Whitney Houston and a lucite Schimmel grand piano gifted to the late singer by her ex-husband Bobby Brown.
Among the more unusual items up for grabs are a painting of a clown by veteran crooner Frank Sinatra and a jar filled with Elvis Presley's hair.
If this is not to your taste, how about a guitar used by the legendary Jimi Hendrix. The red, sticker-covered Guild guitar was used by Jimi Hendrix in 1968 for a jam session in a Miami hotel after a music festival was rained off.
And there's also the black Gibson Les Paul Madonna used on tours including in 2001 and 2008,.
And why not an x-ray taken of Elvis Presley's wrist after he broke a finger while practicing karate. Fans of iconic 90s grunge band Nirvana can check out the cheerleader outfit Kurt Cobain wore for a photoshoot for Rolling Stone magazine.