Rock and roll legends' relics go on auction
Comments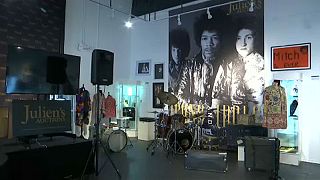 50 years of rock and roll history is going under the hammer in Los Angeles.
Memorabilia once owned by The Beatles, Kurt Cobain, Elvis Presley, Michael Jackson, Prince, Jimi Hendrix and Madonna will make up the lots.
Items on sale include the MTV Moonman from the Video Music Awards that was presented to Kurt Cobain for best new artist for "Smells Like Teen Spirit", two jackets and a rhinestone glove that were worn by Michael Jackson on his triumph tour, and a Cloud electric guitar belonging to Prince.
The Icons and Idols Rock-N-Roll auction by Julian's Auctions is taking place on November 4.
Among the more peculiar items is an x-ray taken of Elvis Presley's wrist.
Martin Nolan, the executive director of Julian's Auctions, said: "You'd think of Michael Jackson, The Gloved One. There's a glove in the sale from the Triumph tour in 1981 estimated 50 to 70,000.
"We also have an amazing red beaded jacket from the Bad tour worn by Michale 87 to 89. Including many, many items worn by Michael Jackson.
"Elvis Presley's collectibility continues to soar. He's highly sought after. People love Elvis Presley inside and out. And in fact we're selling x-rays from Elvis as well showing his finger."
Other relics from The King on sale are his jewellery, including the star's trademark rings and bracelets, as well as two pairs of his famous Aviator glasses.