2015: a record-breaking year at auction
Comments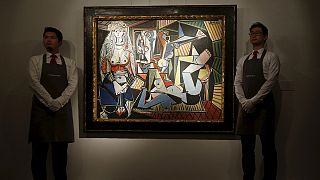 Auctioneers have had a busy year. Hammers have been brought down around the world to seal the fate of objects which have achieved huge sums.
Some have even broken world records…
Paul Gauguin
A private sale at the beginning of the year saw Paul Gauguin's 1892 work 'When Will You Marry?' exchange hands for around $300 million (USD).
The work, which portrays two Tahitian women, left its decades-long resting place in Switzerland to be relocated in Qatar.
Pablo Picasso
Pablo Picasso's 'Les femmes d'Alger (Version 'O') was the most-expensive work of art sold ever sold at auction. In May it went for $179,365,000 (USD) at Christie's in New York.
Painted in 1954, the singed oil on canvas is one of a series ranging from 'A' to 'O' to pay homage to Henri Matisse.
Picasso's Les Femmes d'Alger(Version 'O') the most expensive work ever sold at auction/$179.4m at Christie's #Picassopic.twitter.com/voQidbucXO

— unnikrishna (@unnikrishna) 13 Mai 2015
Alberto Giacometti
May was a record-breaking month in the art-auction world. Alberto Giacometti's 1947 'Man Pointing' became the most-expensive sculpture in history. The 1.8-metre work in bronze sold at the same Christie's sale as the Picasso painting, for $148,280,000 (USD).
Alberto Giacometti - L'Homme au doigt, 1947. #Art#Sculpture#ModernArtpic.twitter.com/QhISn4H9rv

— Galerie Moderne (@GalModArt) November 4, 2015
Cars
Sales of vintage cars have also rocketed.
December saw the sale of a 1956 Ferrari, which had been driven that year by Juan Miguel during Italy's Mille Miglia.
It sold at Sotheby's for $28 million (USD).
The legendary '56 #Ferrari 290 MM built for #Fangio realizes a superb $28 million @sothebys NY! #rmnewyorkpic.twitter.com/Lg3dtBUZkx

— RM Sotheby's (@rmsothebys) December 11, 2015
Precious stones
In November, a Hong Kong collector caused a stir when he bought a 12.03 carat blue diamond for more than 48 million euros at a sale held in Geneva.
A day earlier, the same buyer bought a rose-coloured diamond for 28.5 million at the same Sotheby's auction.
#Bestof2015: The 12.03-carat Blue Moon Diamond soared to a record-shattering $48.5M: https://t.co/7inUFGv6qIpic.twitter.com/UJzbjw2Hvz

— Sotheby's (@Sothebys) December 28, 2015