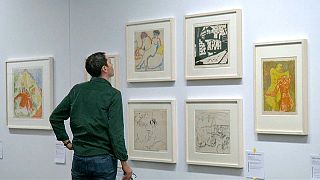 Hundreds of pieces of art have gone on public display for the first time in decades in Switzerland.
Hildebrand Gurlitt built up the collection after being enlisted by the Nazis to sell so-called "degenerate" modern art seized from German museums.
Bern Museum of Fine Arts inherited the stash – including paintings by Picasso and Matisse- after the death of Gurlitt's son, Cornelius.
Around 1,500 works from Claude Monet, Paul Cézanne, Ernst Ludwig Kirchner, Otto Dix and Gustave Courbet were discovered in Gurlitt's Munich and Salzburg residences by tax inspectors in 2013.
The discovery, which was revealed in 2013, is thought to be the biggest artistic find of the postwar era.
The son of the Nazi art collector had been hoarding the pieces of art for decades and left the collection to Bern Museum of Fine Arts in his will.
But a distant cousin challenged the inheritance, delaying the exhibitions.
Nina Zimmer, Bern Museum of Fine Arts director, said the exhibition only displays work they definitely hasn't been looted.
Another exhibition in the German city of Bonn is dedicated to artwork stolen from Jewish individuals under Nazi rule.
More than 23,000 paintings, sculptures and prints were confiscated by the Nazis from public galleries in Germany.