Paintings stolen from Verona found on island near Ukraine
Comments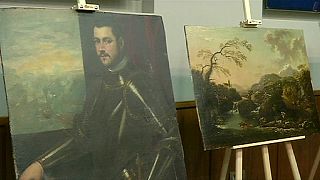 Paintings stolen from a museum in Verona have been found on an island between Ukraine and Moldova.
The 17 works of art, including paintings by Tintoretto and Rubens, were found in plastic bags on a small island on the Dniester River. They are estimated to be worth more than 16 million euros.
Thirteen suspects were arrested in March after police analysed more than 4000 hours of video and phone calls. They included the Italian guard on duty when the robbery took place last November. His twin brother and the brother's Moldovan wife.