'Mafia art collection' on display in southern Italy
Comments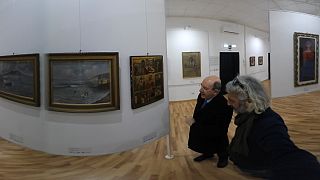 It is no ordinary exhibition…because the precious paintings featured all belonged to an art-loving mobster!
Welcome to the Palace of Culture in Reggio Calabria – situated in the toe of Italy's boot – in which the works displayed are not just a feast for the eyes but also a warning about the long arm of the law.
More than 100 pieces make up the exhibition, including paintings by famous artists such as Salvador Dali, Giorgio de Chirico, Lucio Fontana and many others.
The only common thread to the eclectic collection is that they all once belonged to the 'King of Videopoker' – otherwise known as Gioacchino Campolo.
Campolo made his fortune by tampering with slot-machines on an industrial scale. Believed to be linked to the notorious 'Ndrangheta mafia network, the elderly fraudster was sentenced in 2011 to 18 years in jail.
With much of Campolo's 330 million euro fortune invested in art, local officials had the bright idea of
putting the confiscated culture on show to the public, not only to delight the eye but, especially in this part of the world, as a symbol of the state's victory over organised crime.