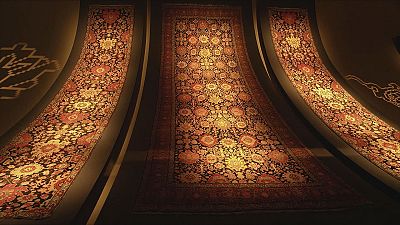 Tradition meets innovation at the 5th International Symposium on Azerbaijani Carpets taking place in the country's glittering capital Baku.
The symposium welcomed experts and academics from around the world for lectures, presentations, and special exhibitions.
Azerbaijan's Minister of Culture Abulfaz Karaev said: "This symposium will see the opening of a special exhibition showcasing pieces from the Victoria and Albert museum and Berlin Museum as well as from private collections held for the first time here in Azerbaijan."
This year's symposium also marks the first time that the Azerbaijan Carpet Museum will open its unique storage vault to show exceptional pieces of Azerbaijani carpets and textiles.
Director of the Azerbaijan Carpet Museum Shirin Melikova told Euronews: "The art of Azerbaijani carpet weaving is our main tradition. It reflects our entire history, our heritage.
"The main reason why Azerbaijani carpets are so popular is the diversity of compositions, vivid colors, and different weaving techniques."
An international team from five different countries also put together the Silk Treasures Project, an exhibit and new book dedicated to Azerbaijani embroideries.
The exhibition at Baku's National Museum of Art features 33 pieces from 10 different places that were collected and put on show for the first time.
Alberto Boralevi, a textile and carpet expert who co-curated the exhibition said: "This group of textiles belong to the end of the 16th and beginning of the 17th century. They have pictorial elements that can be related to the textiles of the Safavid court of the 16th century."
One of the interactive innovations on display – an exhibit which has proved popular with visitors – is Soundweaving, which transforms 17th century embroidery patterns into music.
All the treasures will remain on display for the next three months.