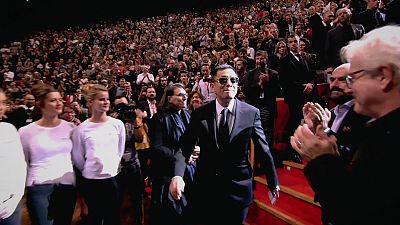 Love was in the air at the ninth edition of the Lumiere Festival in Lyon where legendary Chinese director Wong Kar-wai received a lifetime career award, which he dedicated to his wife.
Wong Kar-Wai, director: "I would like to dedicate this honour to my muse, Esther."
"Merci Lumiere, merci Lyon, and long live cinema."
Hong Kong filmmaker Wong Kar-wai(In the Mood for Love) wins Lumière Award & joins the ranks of Scorsese with award https://t.co/yeWHb1xecl

— Paul Jenks (@jenkspl64) 23 October 2017
The annual event is one of the largest of its kind dedicated to classic cinema, featuring many restored prints, some of which have never seen before, as well as retrospectives and tributes.
Among the guests of honour this year was Scottish actress Tilda Swinton, herself an avid cinephile.
Tilda Swinton attending a photocall during the opening ceremony of the 9th Lumiere Festival in Lyon, France on October 14, 2017. Photo by J… pic.twitter.com/2xpg0gLd8R

—

APS

-Medias (@APSMedias) 14 October 2017
Swinton, who gave an exclusive interview to Euronews, said: "The way the festival is programmed is so much from the heart, and it feels to me like this town really owns its cinema, you know.
"A festival where the people of the town are actually the people who are giving the benzine to the screenings is a great festival."
Besides the screenings, what film buffs look forward to most are the masterclasses, where they get to meet the artists and quiz them on their craft. Swinton, like Wong Kar Wai, drew huge crowds of fans.
'It's great, we get to see splendid copies of films, famous people, no need to go to Cannes or Venice, that's very cool," said one film fan.
Another said: "It's extraordinary. Normally, you wouldn't dream of getting a chance to meet filmmakers, so it's very interesting, a unique opportunity."
Close to 200 films, nearly 400 screenings in theatres across the city – here in the birthplace of cinema, the Festival Lumiere lives up to its slogan: films for everyone.
Fan gift from Lyon – now at Bleak House pic.twitter.com/3QMWJamb5n

— Guillermo del Toro (@RealGDT) 21 October 2017
Among those keen to meet the public in Lyon was Guillermo del Toro. The acclaimed Mexican director, who also spoke exclusively to euronews about love and horror, was there to present his own selection of vintage movies, alongside his new film The Shape of Water for which he recently picked up the Golden Lion in Venice.
"This is a movie that wants to talk about love, the outsider, common ground, to say no to hatred and fear and all the stuff that is so prevalent right now, said Del Toro.
"Whether it is a fantasy creature, or it's a real person from another culture, a different religion, a different sexual preference, to not communicate, empathize and love just negates the world, a part of the world to you."
One of the world's most highly acclaimed and audacious cinematographers and longtime Wong Kar-wai collaborator Christopher Doyle brought a touch of fantasy and fun to the Lumiere award ceremony. Hollywood Reporter described Doyle's speech as F-bomb laden.
Doyle said: "We have the hope that maybe what we do opens the eyes of the world on to what's possible, that's what the Lumiere (brothers) did."