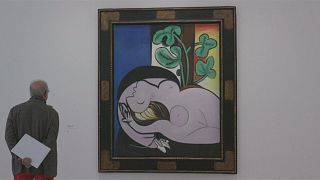 For the first time, an exhibition entirely dedicated to a single year in the life of Spanish artist Pablo Picasso, retracing his work through 1932, has opened in Paris. The exhibition, which opened at the Picasso National Museum in Paris is called, "PICASSO 1932. ANNÉE ÉROTIQUE", featuring more than 110 paintings, drawings, engravings and sculptures set in chronological order.
1932 was a very productive year for Picasso, he produced around 300 works during the year because he had two important retrospectives, one of which opened in June at the Galerie Georges Petit in Paris and the other at Kunsthaus, Zurich in September.
"Picasso used eroticism as a driving force in his painting. He rejuvenated his painting thanks to eroticism and particularly through the figure of Marie-Therese Walter, whom he met in 1927 and who became his mistress as well as the main model in his paintings. So we can see these works, mainly the paintings, are loaded with a strong erotic and sexual power and it is through this erotic power that Picasso produced even stronger and more expressive artworks."
Miss Walter was aged just 17 when they met, Picasso being 28 years her senior. They began an intense love affair, but concealed it for many years as she was just a teenager and he was married. But by 1931, she was clearly referenced in works such as Woman with Yellow Hair.
Picasso challenged conventional ideas through cubism — by breaking the picture surface up into a series of planes and shifting viewpoints. The Spanish artist, who died in 1973 at the age of 92, is widely considered to be one of the most influential artists of the 20th century.
The day President Macron met Picasso's daughter https://t.co/8YrmiSNugApic.twitter.com/59iy4AeFqz

— euronews (@euronews) October 9, 2017
The exhibition "Picasso 1932. Erotic Year" at the Picasso National Museum in Paris, runs until Feb. 11. It is then scheduled to open at the Tate Modern in London, which co-organized the show, from March 8 to Sept. 9.