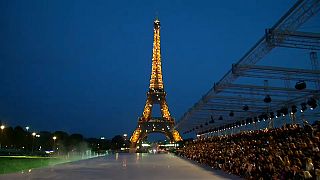 The Musee Rodin was the exiquisite backdrop for Dior's ready-to-wear collection at Paris Fashion Week.
Inside, a cave with mirrored mosaics was the setting for the show which celebrated the French-American painter and sculptor Niki de Saint Phalle, who died in 2002.
Her works were printed on a number of pieces, including a playful t-shirt dress and Dior's new creative director Maria Grazia Chiuri said that the artist, (who followed her passion for art despite flirting with other career choices,) was an inspiration.
Fittingly, the designer hopes the show will inspire women to play more with fashion.
Elsewhere Yves St Laurent stunned the city with an open-air show at the bottom of the Eiffel Tower.
Guests included rock star Lenny Kravitz, actresses Robin Wright and Beatrice Dalle, as well as hundreds of members of the public who lined up along the Trocadero Fountain to catch a rare glimpse of the fashion show.
It was Saint Laurent's first show since co-founder Pierre Berge – business partner and lover of Yves Saint Laurent – died earlier this month.