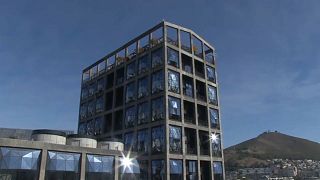 A new museum is opening in Cape Town, South Africa. It's going to transform the way we view contemporary African art.
The Museum hopes to compete with some of the world's most prestigious institutions, from Tate Modern in London or New York's Museum of Modern Art.
Mark Coetzee, Executive Director & Chief Curator : "_The Zeitz Museum of Contemporary Art Africa is the largest museum in the world dedicated
to contemporary visual culture from Africa. We have nine floors, over 100 galleries dedicated to contemporary practice from the 21st century_."
Our V&A Waterfront's R500-million project to re-develop the historic grain silo into the ZeitzMOCAA</a> - <a href="https://t.co/Zp1ilYipaQ">https://t.co/Zp1ilYipaQ</a></p>— Growthpoint (growthpoint) 19 septembre 2017
Visitors to Zeitz MOCAA can marvel at both the museum's architecture and the art curated from around Africa.
As well as permanent and temporary art works, Jochen Zeitz's personal art collection is on display. Former CEO of Puma, Jochen Zeitz, started to build up a collection of contemporary art from Africa about ten years ago, already aiming for the collection to find a home on the continent. Now it will be the base of the Zeitz MOCAA as a permanent loan. Now African artist finally have an adequate platform to show their works. Occasionally there are some criticizing that founder, architect and director of the museum are white. But Zeitz is rejecting this, saying that native curators are going to create the exhibitions and events:
"We tried to be as representative as possible of the diversity of Africa and its diaspora and that's how we've started the collection. And hence it's something for everybody – young, old, kids, people interested in sport, it could be anything – social, political, environmental messaging, so it's a great variety".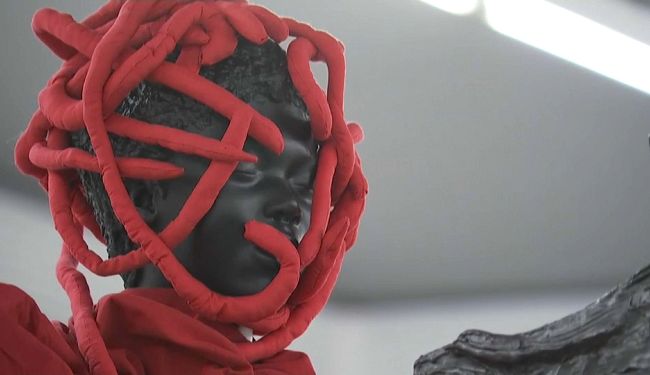 One of the artists whose work is on display is Nandipha Mntambo from Swaziland. Mntambo works in sculpture, painting, drawing and printmaking.
Nandipha Mntambo, artist: "There are amazing things happening in Africa, so it's not a continent just filled with poverty and war, which is what Africa has been associated with in the past. And so having a platform that gives a different understanding of the continent is a really important thing."
Converting the 100-year-old disused grain silo into an art museum has taken four years and cost 32 million euros
Stunning! ZeitzMOCAA</a> <a href="https://t.co/EPWEe5E2y9">https://t.co/EPWEe5E2y9</a></p>— See Art Differently (Sartle) 19 septembre 2017
Cape Town's Waterfront is a major tourist hub drawing some 24 million visitors each year.
The Zeitz MOCAA is open to the public from 22 September 2017.