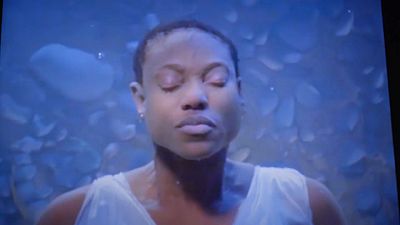 He's undoubtedly the most famous representative of video art.
Through his works, the video has become an essential component of contemporary art.
Dark arts: Bill Viola retrospective marks the Guggenheim Bilbao's 20th anniversary https://t.co/jK1jotuAmh via wallpapermag</a> <a href="https://t.co/NEQr172MzE">pic.twitter.com/NEQr172MzE</a></p>— Margo (MargoSpiritus) 19 août 2017
His videos and works have been on show in all the major museums and galleries in the world.
A Bill Viola retrospective is now on display at the prestigious Guggenheim Museum in Bilbao.
Lucia Agirre, Curator
"What is really important in his work, it's his concept, it's the idea of thinking about the world that we have around us, think about death and birth, life and all the things that happens round us, the passing of time and all those issues."
His showcase reveals the evolution of his work over the course of 40 years.
Bill Viola and the notion of time at Guggenheim Bilbao https://t.co/ekt5peJXH4pic.twitter.com/0IzVfrWyiz

— Fleur Johns (@FleurEJ) 7 juillet 2017
He has always followed and sometimes anticipated the revolutionary development of audiovisual technologies.
BILLVIOLA: A RETROSPECTIVE
June 30, 2017 – November 9, 2017