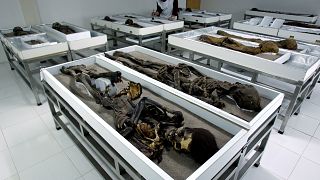 Climate change has been known to have an impact the world over, but one factor Chile is concerned about is human remains.
Researchers are seeking aid to help conserve a collection of mummies found in the north of the South American country. Thought to date from between 5,000 and 1,500 BC, they are believed to be the oldest preserved human remains ever discovered.
They need to be kept at specific temperature and humidity levels to prevent deterioration. However, local media reports suggest they are being affected by a bacteria that is being aggravated by increased moisture.
Almost 300 Chinchorro mummies have been recovered from near the Peru border in recent years. The Chinchorro, a community of hunters and gatherers, carried out complex methods of mummification that have long flummoxed scientists.
Experts are now seeking special heritage status at UNESCO.