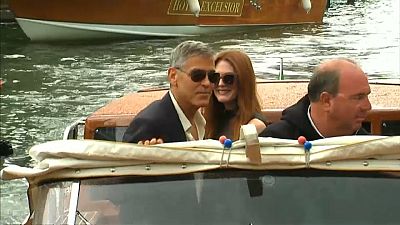 The Academy Awards may be months away, but speculation has already started as a host of star-studded films are premiered at the Venice Film Festival. George Clooney and Julianne Moore will be hoping for Oscar glory with the Coen brothers-scripted drama 'Suburbicon' directed by the Hollywood A-lister himself.
Matt Damon stars in Clooney's 50s-set crime comedy, but it's his role as a five inch tall man in festival opener 'Downsizing' which is creating Oscar buzz. Alexander Payne's latest film is a satire about shrinking humans to five inches tall as a solution to over-population and global warming.
The Venice film festival is the oldest in the world and has a record of launching films that have gone on to enjoy Academy Award success. These include 'Spotlight' and'Birdman' and 'La La Land' which swept the board at this year's Oscar's ceremony.
Mexican director Guillermo del Toro will be hoping to take home an award for his sc-fi fantasy 'The Shape of Water' starring Sally Hawkins. The film is an off-beat fairy tale in which a mute cleaner in a government laboratory falls in love with an aquatic creature.
The 'Shape of Water' is one of 21 US and international movies vying for the Golden Lion that will be awarded on 9th September.